Donald Trump criticised over Lockerbie bomber jibe at First Minister
In an advert the tycoon links Alex Salmond's stance on wind turbines to the release of al-Megrahi.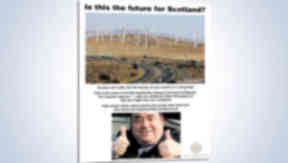 A man whose daughter was killed in the Lockerbie bombing has criticised US billionaire Donald Trump for using the tragedy in his latest attack on Scotland's First Minister.
In an advert, placed by Golf International Golf Links, the tycoon links Alex Salmond's stance on wind turbines to the release of Lockerbie bomber Abdelbaset al-Megrahi.
The advert has appeared in The Press and Journal and The Courier.
Mr Trump strongly opposes wind power and is currently locked in a battle with Alex Salmond over a proposed offshore wind farm which would be within sight of his golf course in Aberdeenshire.
Jim Swire, whose daughter Flora died in the bombing in December 1988, said the tragedy had "no place in a confrontation between an entrepreneur who is interested in making money in Scotland and the government".
He said: "We all know what Trump's interest is and this is obviously to further his entrepreneurial practice
"I don't agree with the text because I don't agree al-Megrahi was a terrorist at all. Whether his boss did I don't know. But I'm satisfied al-Megrahi didn't.
"Donald Trump's attempt to blacken the name of the Scottish Government and convince people the Highlands will turn into one vast wind park has very little to do with Lockerbie. Other than the government has refused a proper investigation into the issues.
"The discussion and investigation [about Lockerbie] has no place in a confrontation between an entrepreneur who is interested in making money in Scotland and the government who failed to investigate the infinitely more important questions over why people were killed in 1988."
Megrahi, 60, was sentenced to life in prison for the 1988 bombing of a US airliner which claimed 270 lives.
He was released from jail in August 2009 on companionate ground as he was after doctors say he is likely to die within three months as he suffered from advanced prostate cancer. Megrahi died in May this year.
The advert, which features a picture of a wind farm in California, states: "Tourism will suffer and the beauty of your country is in jeopardy!
"This is the same mind that backed the release of terrorist al-Megrahi, "for humane reasons" --- after he ruthlessly killed 270 people on Pan-Am Flight 103 over Lockerbie. Take action. write, demonstrate and protest Alex Salmond."
The move comes three months after an advert placed by The Trump Organisation was banned by an advertising watchdog.
The advert was headed "Welcome to Scotland!" above a photograph of broken and rusty wind turbines.
Advertising Standards Agency (ASA) officials received three complaints about the advert, including one from Scottish Renewables.
They argued the photograph gave "a misleading impression of proposed wind farm, because the picture was a decommissioned wind farm in Hawaii."
Complainers stated that Scottish regulations prevented turbines from being allowed to deteriorate to the condition shown.
Scottish Renewables also complained that claims in that advert that "Alex Salmond wants to build 8750 of these monstrosities" were misleading as the turbine model in the picture was not used in Scotland and that they understood the number of proposed turbines to be build was "significantly less".
A Scottish Government spokesman said: "The Advertising Standards Agency has already banned an advertisement by the Trump Organisation for providing a 'misleading representation of proposed wind farms'.
"Scotland has massive green energy potential - including around a quarter of Europe's offshore wind and tidal power potential – that is already bringing in significant jobs, industry and investment and we have a responsibility to ensure Scotland benefits further."
Your report: If you have information on this or any other story, please let us know. You can send information, pictures to web@stv.tv or call us on 01224 848918.
Feedback: We want your feedback on our site. If you've got questions, spotted an inaccuracy or just want to share some ideas about our news service, please email us on web@stv.tv.