Dozens rescued from coastal homes after high tides spark flooding
High tides and severe weather led to 25 people being taken from complexes at Stonehaven.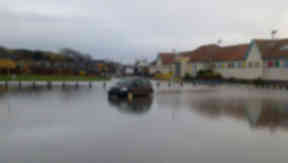 Residents of sheltered housing were among those evacuated after coastal flooding hit the north of Scotland overnight.
High tides and severe weather led to 25 people being taken from complexes at Stonehaven in Aberdeenshire.
They were taken to St Bridget's Hall in the town, where a rest centre was set up.
Further north at Peterhead, about 30 people were evacuated from properties in the Roanheads area.
Some stayed with friends while others were given accommodation at a hotel, according to Aberdeenshire Council.
People at a care home in Huntly, which sits inland at the River Deveron, were told to prepare to leave but later given the all clear.
Willie Munro, of Aberdeenshire Council, said: "Trained council staff and emergency services personnel are on hand at St Bridget's Hall to provide support for the people who have been evacuated.
"High tide in Stonehaven has passed and, while we continue to monitor the levels of the River Carron closely, there are currently no concerns that the river will flood."
Authorities took the action because of unusually high waters, which also affected other parts of Scotland.
In Wick, on the far north coast, roads were closed and fishing boats were damaged in high winds.
About 12 cars were moved from a car park when a strong surge breached a river bank, police said.
Several roads were closed by debris thrown up by the waves.
The wall at Lossiemouth harbour has partially collapsed, with a 15-metre section of the structure at Clifton Road caving in. Police and Moray Council staff are at the scene but warn that high tides are forecast and could lead to flooding in the Seatown area.
Members of the public are asked to stay away from the scene for their own safety and to allow the emergency services to conduct their duties.
In Wick, the Service Bridge, shore, Harbour Quay and South Quay have all been closed to members of the public.
Environment Minister Paul Wheelhouse said: "Local emergency services moved quickly to deal with the aftermath of the flooding, which was caused by unusually high tides and high winds, in Stonehaven and Peterhead. Emergency staff are also monitoring the situation at Lossiemouth. They have all demonstrated the utmost professionalism in the face of very challenging weather conditions.
"Local residents affected by the floods have been moved to safety and offered support. I want to express my sympathy for their ordeal."
Gallery: Stonehaven Storm 2012