Stonehaven residents evacuated from homes amid waist-high water
Emergency services were called to Stonehaven after the River Carron burst its banks at around 3am on Sunday morning.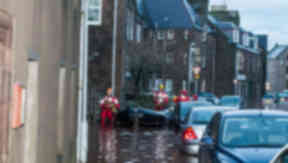 Major flooding in an Aberdeenshire town has led to residents being evacuated from their homes amid waist-high water levels.
Emergency services were called to Stonehaven after the River Carron burst its banks at around 3am on Sunday morning.
With water levels rapidly rising, people were transported to a rest centre in the town while a rendezvous point was set up in Market Square. Residents were evacuated from Low Wood Road, Dunottar Avenue, Bridgefield, Arbuthnott Street, Arbuthnott Place, High Street, Carron Gardens and Carron Terrace.
Aberdeenshire Council said around 40 people were rescued over the course of the night and early morning.
There were no reports of injuries, but it is believed some people were trapped in their homes by the flooding. Police said residents who had been evacuated were expected to be out of their homes for between 12 and 24 hours.
A Grampian Police spokesperson said: "Residents in affected streets are asked to make their way initially either to Market Square or to the reception centre which has been set up at Mackie Academy. Staff from Aberdeenshire Council are on hand at Mackie Academy to assist members of the public.
"As always, our initial focus is to ensure the safety of the wider community and we have deployed a number of additional officers to the area to ensure residents are kept informed of the developing situation and given assistance in relocating from the affected area.
"Residents unable to leave their property should remain at a higher level where possible and dial 999.
"At this early stage we would ask those being evacuated to expect it to last between 12-24 hours. Those leaving their property should take any essential personal items they will require - any medication they may need for example - and also ensure that they secure their property when they leave."
'Devastating'
Local MSP Nigel Don visited the town on Sunday morning to see what was being done to help residents. The Angus North & Mearns MSP also visited Brechin, another town badly hit by floodwater.
Mr Don said: "The severe weather has had a devastating impact, once again bringing misery to residents of places like Stonehaven who have faced more than their share of such challenges in recent years.
"The emergency services have as always done an incredible job to react so swiftly and ensure that people are kept safe and out of harm's way.
"It is when disasters like this strike that the resilience and community spirit of towns and villages across the north east really come to the fore. People are pulling together to give every assistance to those residents who have been affected by flooding and that is a heartening thing to see."
River levels
In a statement issued early on Sunday afternoon, Aberdeenshire Council said: "At this early stage, indications are that weather conditions have improved and will continue to do so over the next few hours.
"River levels across the region are now peaking or have peaked and are dropping, with the weather easing significantly since early this morning.
"All roads in the region continue to be badly affected by surface water and Grampian Police are continuing to warn drivers that they should exercise extreme care and take steps to ensure they drive according to the conditions."
Regular updates will be posted on the Council's Twitter feed and Grampian Police's Facebook page
Meanwhile, flooding caused by the torrential rainfall continues to cause misery for residents and travellers across Scotland in the run-up to Christmas.
Environmental agency Sepa had 29 flood warnings in place on Sunday morning across Aberdeenshire, Caithness, Dundee and Tayside, Angus and parts of the Borders.
The weekend's severe weather has had a major impact on transport routes, with road closures, ferry cancellations and railway disruption across the affected areas.
For up-to-date flood alerts in your area, visit Sepa's flood updates page
Traffic Scotland's current incidents page has details of ongoing disruption caused by flooding and surface water.
GALLERY