Politicians and residents call for flood defences in Stonehaven
The coastal town was badly flooded for the second time in three years on Sunday.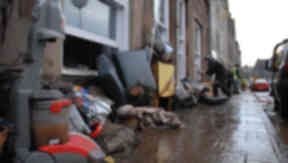 Efforts to install flood defences in Stonehaven must be accelerated according to residents and local politicians.
The call has been made after the town was badly flooded for the second time in three years on Sunday.
Following the 2009 floods, Aberdeenshire Council was warned in a report that the town could suffer flooding every decade if action is not taken to improve the capacity of the River Carron.
The local authority has said it is working to bring the "right scheme" to fruition.
Stonehaven and Lower Deeside councillor Graeme Clark said: "I'm a bit perturbed there are no long-term proposals for the Carron and we're at the mercy of the river after a heavy rainfall. There's no place for the water to go except out of the Carron.
"Local people have to have confidence every time it rains it's not going to flood. It's really hellish."
Stonehaven and District Community Council chairman Michael Innes questioned what had been done in the last three years by the council to improve the situation.
"After the last flooding they did all these technical analyses but yet the same place has flooded again," he said.
"What has the council done in three years? It's time to get it sorted."
Stonehaven and Lower Deeside councillor Peter Bellarby, who is a member of Aberdeenshire Council's ruling coalition, the Aberdeen Alliance, said he would like to see councillors push forward flood defences in the new year.
"The thing that disappoints me is that we haven't made enough progress on finding a long-term solution. There have been plans discussed and made but now we need some action on the ground," he said.
"I've been talking to some of the Alliance councillors about this and the response I've been getting is very positive."
One High Street resident, who asked not to be named, said: "I'm a civil engineer. Three years ago we got flooded and now the house has a £15,000 excess on it.
"We've never had anything through the post and I have never seen anything to say there are flood alleviation plans. No one has come round and said these are the schemes."
Susan McKenzie, whose parent's High Street flat was badly damaged in the flooding said: "They better do something this time because residents are really angry. It's businesses and people's property, it is their livelihood it is their lives. Something has to be put in place."
Angus North and Mearns MSP Nigel Don said he would be encouraging government ministers to work closely with the council to ensure "engineering solutions which are right" are put in place.
Aberdeenshire Council chief executive Colin McKenzie said: "It's tragic for all the people who live here who have been affected now on a number of occasions and of course the businesses as well.
"The issue for us in Stonehaven is [the flooding] seems to be slightly different every time. It's different in terms of the causes from the last time it happened.
"We are looking at flood defences and putting in place what we can on a temporary basis."
He warned rainfall in areas of the east coast had increased by around 60% since 1981.
"Climate change is real and is happening so we do have to look to see what we can do as a council and what we can help communities to do for themselves and householders as well," he said.
"This time it did look as though the flood situation had abated and all of a sudden it went back up again and came over far more quickly than we thought was going to happen."
Although he said he could not put a date on when he expected defences to be in place he said: "[We will do] everything we can as quickly as we can".
Aberdeenshire Council's area manager for Kincardine and Mearns Willie Munro added: "It seems to be a different incident [to 2009] but it is too soon to know the mechanics of the flood.
"It was a long period of rain and then an extremely heavy downpour and the water has no where to go."
He said on average local authorities took around seven years to install flood defences from their inception but he hoped that time could be cut in Stonehaven. The council first started examining flood defences for the town in 2009.
"It's particularly challenging because of the small catchment of the River Carron and will probably end up being a combination of up stream storage to catch flood water and some form of physical barrier along the Carron as it comes through Stonehaven," he said adding that a scheme in Stonehaven was a "high priority" for the local authority.
Environment minister Paul Wheelhouse, who visited the town on Monday, said: "The scene is much worse than I had feared in terms of the spread of the silt across the town centre."
Mr Wheelhouse said he could not guarantee government funding would be given to help install flood defences in the town but that he would "work closely" with the council on the issue.
"Because of the nature of the process it involves Cosla and the Scottish Government collectively taking a decision on what schemes need to be funded under the next round [of funding] and it's impossible for me to say one way of the other whether that will be approved but I'd imagine Cosla will be very aware of the damage that has been done here and I can obviously report back to colleagues as well," he said.
"What I have learned today is the existing proposals that were going to come forward may need to be adapted because the flood has happened in a different way to what happened in 2009."
Your report: If you have information on this or any other story, please let us know. You can send information, pictures to web@stv.tv or call us on 01224 848918.
Feedback: We want your feedback on our site. If you've got questions, spotted an inaccuracy or just want to share some ideas about our news service, please email us on web@stv.tv.