Residents to spend Christmas away from homes as clear-up commences
Aberdeenshire Council said it had ensured everyone affected had alternative accomodation.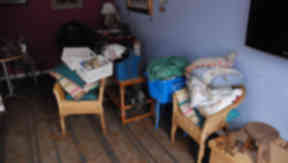 Dozens of Stonehaven residents will spend Christmas away from their homes after being evacuated following Sunday's floods.
Lifeboat crews helped many residents to safety and Aberdeenshire Council said it had ensured everyone affected had alternative accomodation.
A council spokesman said: "All residents who required accommodation over Christmas have now been accommodated.
"The majority of affected residents are staying with friends and family, but where this has not been possible or accommodation was only available for a short period of time, housing staff are working to find suitable temporary accommodation."
On Monday residents were left to clean-up their properties and assess the damage caused by the flood water.
It is the second time in three years most of the properties have been hit by flooding.
Sally Campbell, of High Street, said: "We woke up at around 5am and heard the water and stepped out of bed and it was up to our ankles. Within minutes it was up further - rising all the time.
"The firemen let us out the front door and they came and took us by boat up to Mackie Academy.
"We've lost everything."
She added that it was her first experience of flooding as she had only moved into the property after the 2009 floods.
For Susan McKenzie, whose parents live on High Street, it was a more familiar sight.
She said: "They are in there 70s. I have taken them to my house. They were taken out by a live boat at around 4am [on Sunday]. Taken Up to Mackie Academy and all they had on them was their pyjamas - my dad didn't even have his spectacles.
"We are just doing a clean-up here because they don't have content insurance. We're just trying to get everything up to start the drying process.
"There hasn't been much of council presence so we need some help.
"Three years ago it was exactly the same. We have gone through this, had it all rebuilt and all beautiful and now it is back to square one.
"My parents are devastated, they don't have much money and they have lost all their personal possessions."
Another High Street resident, who asked not to be named, said: "I've a daughter and it's Christmas coming up. We can't come back here. We're relying on friends and family to put us up."
Your report: If you have information on this or any other story, please let us know. You can send information, pictures to web@stv.tv or call us on 0141 300 3264.
Feedback: We want your feedback on our site. If you've got questions, spotted an inaccuracy or just want to share some ideas about our news service, please email us on web@stv.tv.