Stonehaven appeals to Scottish Government for flood repair help
Around 100 residents were evacuated when the River Carron burst its banks in early hours of Sunday.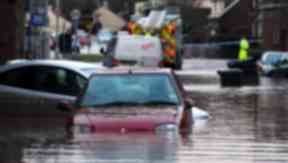 An area hit by two weekends of severe weather has applied to the Scottish Government for funds to help repair the damage caused.
Around 100 residents in Stonehaven, Aberdeenshire, were evacuated when the River Carron burst its banks in the early hours of Sunday and water rose to waist-height in parts of the town.
The previous weekend, gale-force winds and high tides caused millions of pounds-worth of damage in the area and along the east coast.
The environment minister visited the north-east town on Monday to speak to residents affected by the floods and thank people for the efforts to mitigate and clean up the damage.
He said the Scottish Government would support the recovery and Aberdeenshire Council has applied for financial support, activating the Bellwin Scheme, the support system for a discretionary fund for spending above a council's threshold.
Finance Secretary John Swinney said: "Communities across Scotland, but particularly in the north-east, have had to endure exceptional weather in recent days.
"After the storms that battered coastlines earlier in December has come flood damage, most severely in Stonehaven.
"My thoughts are with the households and businesses that have suffered flood damage, at the cruellest possible time so close to Christmas.
"Clean up work is ongoing, and I commend everyone involved for their hard work.
"This government is committed to helping communities get back on their feet as quickly as possible.
"I have agreed to activate the Bellwin Scheme which provides support to Aberdeenshire Council to assist with immediate and unforeseen costs of dealing with the latest flood damage.
"This offer of assistance is in addition to support under the scheme which I announced last week for Aberdeenshire and Moray Councils following recent coastal storm damage."