Fundraising Nippy Dippers make a big splash at Stonehaven harbour
The brave dippers raised £14,000 for children's cancer charity CLIC Sargent during the annual event.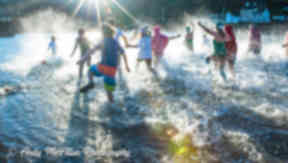 Jumping into the freezing depths of the North Sea may not be everyone's idea of the best way to see in the New Year, but for a group of hardy fundraisers the splash has raked in the cash for a children's cancer charity.
The annual Stonehaven Nippy Dippers event, now in its fifth year, sees plucky divers plunge into the sea on January 1 to raise money for CLIC Sargent – and organisers have said the 2013 event was the best yet.
Katie Grier, Fundraising Manager for CLIC Sargent, said: "We had 70 participants on the day and we have raised around £14,000 for the charity."
"It was a great day and the weather was good in comparison with last year."
Participants donned a series of silly outfits for the event and everyone from Santa and his elves, Captain Hook and Tinkerbell to burly sumo wrestlers, looked the part before getting a soaking in the freezing water.
Katie added: "Everyone was in fancy dress and we even had a few Pamela Anderson's take part!"
The charity fundraiser saw hundreds of people support the dookers, lining the pier to watch the brave souls take the plunge.
Peter Logie, Fundraising Manager for CLIC Sargent, was at the event and witnessed the community spirit that saw the annual fundraiser go off without a hitch.
He said: "The Stonehaven Lions community group were a great help, providing soup to heat swimmers up and offering a nip to those over 18."
He added: "Its great to have such a positive event after Stonehaven was hit so badly with the floods. It was great to see everyone come together and there was a real sense of community at the event."
Peter added that the £14,000 raised by the swimmers will go some way to help families affected by cancer.
He said: "We support a number of families in the north-east, and we support a few in Stonehaven itself. It costs around £4000 to support a family per year and the money raised will help around three families in the area."
Click here to view pictures from the Nippy Dip in our online gallery