Cove Rangers set to complete move to new £3m stadium by 2015
Cove Rangers are confident of moving to a £3m stadium at Calder Park.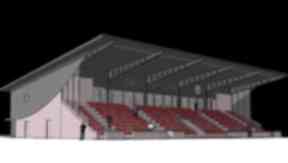 Cove Rangers chairman, Keith Moorhouse, has confirmed that the Highland League club are on track to move to a new £3m stadium in 2015.
The Allan Park organisation have recently held constructive talks with Aberdeen Council and both parties are making positive noises about the new development.
Cove's previous attempt to leave their current ground and relocate to enhanced facilities was stymied after the council blocked their proposal to redevelop Calder Park in a joint arrangement with Aberdeen FC.
However, Moorhouse has been in regular contact with the local authority's leaders, Barney Crockett and Willie Young, and STV now understands it is almost certain Cove will be granted permission to start work on their new home later this year.
Moorhouse said: "We are still in discussions with Aberdeen City Council, but the number of meetings we've had with them have left us convinced the stadium can be delivered on time [for the start of the 2015-16 campaign].
"Willie and Barney have been very supportive and they have given us their word the stadium plans will be approved, which is a huge boost."
The new arena at Calder Park will be significantly better than the existing facilities and the chairman revealed that the £3m funding should not be an issue.
He said: "The bulk of the money needed will come from the sale of Allan Park.
"The last valuation of that was in excess of £2m, although that would obviously be reviewed once the move to Calder Park has been approved.
"The remainder will come from other sources which have already been secured."
Cove's confident outlook on pursuing a place in a future revamped Scottish League structure has been matched by Willie Young, who is backing their ambition.
He stated: "We are doing all we can to ensure Cove get what they need.
"Their plans were discussed at a meeting only this week and it's all looking pretty positive at the moment. We have another meeting scheduled for next month and hope to be able to make further comment after that."