Offshore workers evacuated from North Sea oil rig amid leak
TAQA, which owns the rig, confirmed it was 'down manning' on The Cormorant Alpha oil platform.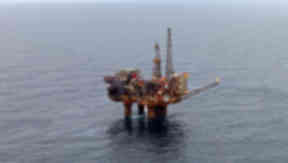 Offshore workers have been evacuated from an installation in the North Sea due to an oil leak.
TAQA, which owns the rig, confirmed it was "down manning" on The Cormorant Alpha oil platform as a "precaution".
The platform, around 100 miles north-east of Shetland, has shut down production.
A spokeswoman for the company said the leak is being contained and is under control.
She said: "TAQA can confirm that an indication of hydrocarbons was detected in one of the legs of the Cormorant Alpha platform in the northern UK North Sea at 4.15pm local time on January 14.
"Since the discovery, hydrocarbon levels have been continually monitored. The platform and all pipeline infrastructure have been shut down as a precaution. The hydrocarbons are contained within the platform leg and none have been released into the environment. A technical team is investigating the source of the hydrocarbons.
"There are 159 people on board and our number one priority is the safety and wellbeing of our people. All those on board have been accounted for and they are all safe and well. We have stopped all non-essential work on the platform, to focus all our efforts on addressing this issue.
"A total of 92 people will be taken off, once down-manning is complete at about 6.30pm.
"It started this afternoon and that should be it all complete by the time the last helicopter leaves at about 6.30pm."
Cormorant Alpha handles around 90,000 barrels per day of crude oil.
RMT offshore organiser Jake Molloy said: "I suspect that they are suffering as a result of years of neglect by the previous owners. The legs area a source of constant problems and difficulties as has be evidenced by Brent Bravo and Brent Alpha in the past."

View Cormorant Alpha in a larger map
Your report: If you have information on this or any other story, please let us know. You can send information, pictures to web@stv.tv or call us on 01224 848918.
Feedback: We want your feedback on our site. If you've got questions, spotted an inaccuracy or just want to share some ideas about our news service, please email us on web@stv.tv.