Donald Trump's Aberdeenshire golf course damaged by winter storms
The area around the fourth tee at the Menie Estate course has seen four feet of earth ripped out.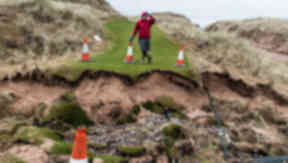 Donald Trump's £750m Aberdeenshire golf course has been damaged by recent harsh weather.
The area around the fourth tee at the Menie Estate course in Aberdeenshire, near Balmedie, has seen four feet of earth ripped out and deposited into the North Sea due to high rainfall in December.
A spokeswoman for Trump International Golf Links confirmed the section of ground near the fourth hole is being repaired, and foresaw no issues with the course reopening, as scheduled, in April.
She said: "The enormous storm that hit the north-east of Scotland over three weeks ago caused damage and disruption to communities along the coastline, and swept across our property which remained largely unaffected.
"As a sand based course, our drainage is exceptional and the height of the dunes shielded the playing surfaces.
"However, one of the burns burst its banks in two isolated sections but restoration plans are well under way and the work will be completed within weeks, well in advance of the golf course opening in April.
"We're delighted with how the course stood up to these extreme weather conditions and look forward to opening our second season of play in a few months as planned."
However one of Mr Trump's opponents David Milne, who lives on the estate, said it had always been inevitable that the course would eventually start being destroyed by the rough Aberdeenshire conditions.
He said: "A number of folk have spoken to me about the recent storms and the dramatic effect it's had on the course - which, to be fair, is exactly what we expected to happen.
"These landslides are directly on the dune line, which are always shifting due to the weather. Just because there's a golf course built on them, doesn't mean that this would change.
"To expect the greens and the tees not to go with the sand dunes is just ridiculous. We expect this sort of thing to become more widespread over the future.
"You've got the spring storms which we're still expecting to hit in March and April, which will just come ripping in.
"Where there's a weakness like this, places where coastal defences have been put in and already failed, they're just going to tear through there without any question."
Your report: If you have information on this or any other story, please let us know. You can send information, pictures to web@stv.tv or call us on 01224 848918.
Feedback: We want your feedback on our site. If you've got questions, spotted an inaccuracy or just want to share some ideas about our news service, please email us on web@stv.tv.