Hundreds of NHS patients waiting eight months for results in Grampian
The Scottish Government said it is unacceptable for anyone to wait so long for a diagnostic scan.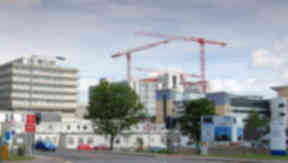 Hundreds of patients have waited up to eight months for diagnostic tests breaching the Scottish Government's 18-week guarantee.
NHS Grampian said 550 of its patients waited longer than the guaranteed treatment time because of a backlog caused by a broken scanner.
The Scottish Government said it is unacceptable for anyone to wait so long for a diagnostic scan.
NHS Grampian was given the all-clear in a recent audit of waiting times.
All 14 of Scotland's health boards were asked to review their practices earlier this year following concerns that the manipulation of waiting times uncovered at NHS Lothian may be more widespread.
A spokeswoman for NHS Grampian said: "Regrettably, some patients referred on a non-urgent basis will have had to wait up to eight months for a scan as a result of damage to one of our two scanners.
"That scanner has been replaced and we are now working towards reducing average waiting times to the 12-14 week norm. Urgent referrals are seen within two to six weeks."
A total of 3500 patients are seen by the service each year, NHS Grampian said.
"We report on our performance against the national standards. Our current performance across all services overall is sitting at 90.3% which is above the national target," the spokeswoman said.
"There are a number of patients who we acknowledge have been waiting much longer than we would wish for. However, we are urgently looking at a number of ways to alleviate this, including mobile scanners in the community, and we are actively exploring the possibility of sourcing scanning facilities in alternative locations."
A Scottish Government spokeswoman said diagnostic scans are part of the 18-week referral-to-treatment guarantee and that it is unacceptable for any patient to have to wait longer.
"We would expect NHS Grampian to explore all options to reduce exceptionally long waits for patients, including exploring the use of additional capacity from another board or the independent sector, and we will be raising this with them as a matter of urgency," she said.
Liberal Democrat health spokesman Jim Hume said: "I am stunned at what can only be seen as a systematic failure of process across NHS Grampian.
"These are vital tests which can be a huge source of stress to people's lives.
"This is yet another scandal in yet another NHS board. How many more patients and families need to be failed before SNP health ministers finally get a grip of waiting times management in our NHS?"
Your report: If you have information on this or any other story, please let us know. You can send information, pictures to web@stv.tv or call us on 01224 848918.
Feedback: We want your feedback on our site. If you've got questions, spotted an inaccuracy or just want to share some ideas about our news service, please email us on web@stv.tv.