Enter Shikari announce 'cozy' Aberdeen date for April tour
The four piece will take in the Garage nightclub on April 18, as one of four Scottish dates planned.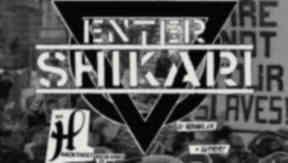 Alternative metal band Enter Shikari are planning a shake-up of their usual tour style, by dropping in on small venues across the UK for their 2013 tour, taking in Aberdeen on the way.
The four piece from St Albyns will return to Aberdeen on Thursday, April 18, playing at the Garage nightclub.
Enter Shikari announced the dates via their Facebook page on Wednesday morning and the news that the band planned to make a stop in Aberdeen quickly spread on social media.
The Return to Energiser tour will take in four Scottish dates, including Kilmarnock on April 16, Inverness on April 17 and Galashiels on April 21.
On January 12, Enter Shikari posted on their Facebook page that the tour would be visiting unusual or small towns in comparison to the sell out shows in massive venues the band are used to.
They said: "There will be 24 shows in total. With the exception of one or two of the shows, none of them will be in what would be considered 'major' towns or cities."
Adding that the tour had 'taken ages to put together', the band were delighted to tease fans with an idea of the type of tour that is due to take place over the next few months.
The band commented: "Most of the shows are around the 600 capacity mark, so a little more 'cozy' than recent shows. We're focusing on the sort of places that we've either never been, or not been for years, or that don't generally get shows at all."
Tickets are available from the Enter Shikari website in a presale, before going on general sale on Friday, January 18.
Fans of the band took to Twitter to express their excitement about the news, commenting that the band were brave to bring the shows out with usual high profile venues in larger cities.
Sometimes I praise bands like Enter Shikari for actually giving Aberdeen a chance

— Pepsi Queen (@alexgasfart_) January 16, 2013
@entershikari tickets purchased! Can't wait to see them in Aberdeen again!

— Mart815 (@Mart815live) January 16, 2013
Going to see Enter Shikari twice, Inverness then Aberdeen the next day!

— Liam Haggerty (@LiaamHaggerty) January 16, 2013