Lochhead challenges Scotrail over complexity of Moray rail fares
Richard Lochhead has written to Scotrail demanding answers over their fare structure.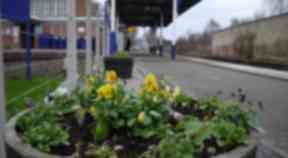 A constituent who was left confused by the pricing policy on Scotrail trains through Moray has sparked a letter from the region's MSP.
Richard Lochhead was moved to write to the national rail provider seeking clarification of their pricing policy when the constituent pointed out that advance fares from Nairn to Aberdeen were cheaper than from Nairn to Elgin.
The MSP investigated further and discovered not only was that the case but that an advance single fair from Nairn to Aberdeen was in fact cheaper than any fair available from all three Moray stations in Forres, Elgin and Keith.
The biggest difference found was that for Forres to Aberdeen passengers booking in advance would pay an astonishing £29.60 for a return journey, nearly £13 more than the cheapest fare from Nairn where passengers using the same trains are charged £17.
It is not, however, possible to purchase a ticket from Nairn and board the train at a station on route to Aberdeen.
Richard Lochhead said: "The complexity of rail fares has long been an issue and this example of discriminatory fares that favour passengers boarding in Nairn while Moray passengers pay more for a shorter journey on the same trains is a prime example.
"The difference in cost for passengers boarding at Forres is quite unbelievably nearly £13 more than for passengers boarding further away at Nairn!
"I have asked for an explanation from Scotrail as to why this fare policy is so discriminatory against the people I represent in Moray.
"I thank the constituent that has drawn this particular fare anomaly to my attention and I am asking Scotrail to take a serious look at their fare structure on the line and act to improve the situation for the many passengers who take trains to Aberdeen from Forres, Elgin and Keith.
"While there is much to welcome in terms of planned improvements to the railway line and the likely addition of a new station at Inverness Airport, passengers must also be treated fairly when it comes to ticket pricing and that is blatantly not the case."