No cuts to cod quota agreement a 'good deal' for Scots fishermen
Officials came to an agreement at 6am on Friday over the shared quotas.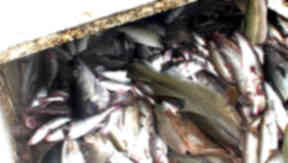 The cod quota for Scottish fishermen will not be cut in 2013 following the conclusion of negotiations between the EU and Norway.
The talks this week, which involved senior Scottish representation, resumed after the second round ended in December without an agreement being reached. Officials came to an agreement at 6am on Friday.
Scottish Fisheries Secretary Richard Lochhead said: "This deal is good news for Scotland's fishermen and builds on the successful outcome of December's fish talks in Brussels. Showing significant increases across a range of key stocks that are reaping the benefit of sensible management measures.
"Importantly we have now set mackerel limits that follow the scientific recommendations but do not in any way seek to reward the unacceptable actions of Faroe and Iceland to the detriment of the Scottish fishing industry.
"The deeply flawed cod plan proposed a further cut in quota when the stock is actually recovering, the only result would have been a trail of discards across the North Sea. This outcome will help prevent that nonsensical situation arising.
"The industry has much to look forward to in 2013 and while there will no doubt still be challenges ahead, for now at least they are able to plan ahead and be confident the future is looking brighter for them than it has for a long time."
The agreement follows the EU Fisheries Council Negotiations last month that resulted in a freeze in cuts to days at sea and no automatic cuts in the cod quota this year.
Bertie Armstrong, chief executive of the Scottish Fishermen's Federation, said: "This is a good outcome based on the science, which reflects the status of our recovering stocks in the North Sea. The rollover of the cod quota will help bring some stability to fishermen - this stock is recovering well and a cut in quota would only have led to unavoidable discarding.
"Our fishermen have been at the forefront of spearheading a range of innovative conservation measures, including technical alterations to trawls to dramatically reduce discards, and adhering to real-time area closures to protect spawning and juvenile fish.
"The decision to set our overall share of the mackerel at the traditional level was also a sensible move, as it was important that nothing was done to reward the irresponsible over-fishing of the stock by Iceland and the Faroes."