Brothers found guilty of assaulting New Zealand rugby star
Aparangi Hemara lost an eye as a result of the attack by Aaron and Christon Mackie.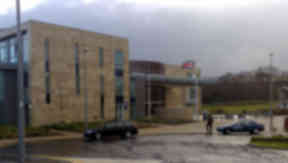 Two brothers have been convicted of brutally assaulting a New Zealand rugby player who lost an eye as a result of the attack.
Aaron, 19, and Christon Mackie, 21, were found guilty by juries at two separate trials in the High Court in Livingston.
The brothers, of Girdleness Road, Aberdeen, both had sentence deferred for background reports.
They were charged with repeatedly punching and kicking Maori rugby star Aparangi Hemara to his severe injury, permanent disfigurement and permanent impairment in Union Street, Aberdeen, last October.
The incident took place in the early hours of Sunday morning after Aaron Mackie had been out drinking to celebrate his 18th birthday on Saturday.
Christon Mackie's former girlfriend Jordan Law, 20, of Parkhill Avenue, Dyce, was acquitted of assaulting Mr Hemara's partner Elizabeth Giles, from Inverurie, after the jury returned a not proven verdict.
During the prosecutions, advocate depute Tim Niven-Smith compared 6' 7" Aaron to the James Bond movie character "Jaws" and described him as a "man mountain". The accused's height proved a major factor in his identification by witnesses.
Christon Mackie, a Highland League and Junior club footballer, who was seen kicking Mr Hemara in the face as he lay unconscious on the road, confessed to being "a coward" because he ran away leaving his girlfriend alone late at night.
Mr Hemara had been walking arm in arm with his fiance Elizabeth Giles to catch the last bus home after celebrating the announcement of their wedding with friends in Aberdeen city centre.
It was Mr Hemara's first night out in Scotland after coming from New Zealand just a few weeks before to meet his fiance's parents.
For no apparent reason, a gang of four people turned on them after they accused Mr Hemara of bumping into one of them.
Mr Hemara, 33, a Maori whose grandmother was Scottish, had represented his home country in rugby.
He won two international caps as a back in the New Zealand Maori team and hoped to play rugby for Scotland.
But his dreadful injuries shattered his sporting dream and left him unable to catch a rugby ball, because with only one eye he can no longer judge distance.
His wife was also knocked out in the incident and came round to find her now husband lying unconscious in a pool of blood.
He had to undergo months of operations and doctors feared that an infection in his retinal nerve would spread to his other eye and leave him completely blind.
At one stage he broke down in the witness box as he told how surgeons gave him the choice of having an operation to remove his left eye or risk going completely blind.
After the verdict, Mr. Hemara said: "As you can imagine we have had an extremely tough year and are thankful this is all over so we can move on with our lives.
"No words can describe our ordeal but we are thankful for all of the support we have received. It must be said that without CCTV footage, the police and the help of the press we wouldn't have been able to bring anyone to justice for this.
"A tremendous thank you must be given to Victim Support, Victim Information and the Witness service for all of their help over the last 12 months."