Napoleon's sister's tiny slippers unearthed at Aberdeen University
The tiny silk and leather slippers had lain unnoticed in the collections of the University of Aberdeen.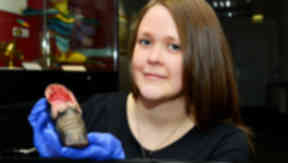 A pair of slippers which belonged to the sister of Napoleon Bonaparte have been unearthed in Aberdeen.
The tiny silk and leather slippers had lain unnoticed in the vast collections of the University of Aberdeen for more than 140 years.
Thanks to the detective work of a curatorial assistant it was discovered that the embroidered shoes boast a royal connection and once belonged to Napoleon Bonaparte's sister, Princess Pauline Borghese.
The discovery was made by Louise Wilkie, who joined the museum team last June.
She was tasked with cleaning and sorting through a collection belonging to the Banff-born medical graduate and extensive traveller Robert Wilson who died in 1871.
The decorative shoes are equivalent to a UK children's size two and incredibly narrow, measuring just 40mm across the toes.
They were contained within a chest of clothes and were simply marked on the sole 'Pauline Rome' so she decided to investigate further.
Ms Wilkie said: "Robert Wilson left his collection of objects from his extensive travels to the museum in his will in 1871.
"In a list of the objects donated by Wilson is the description of 'A pair of slippers – Pauline, Rome Jan 20th 1824'. The same inscription is on the base of the slipper.
"I began to look at other archival material held by the University and found that Wilson had a friendship with Princess Pauline Borghese, the sister of Napoleon Bonaparte.
"Letters from him to Pauline show a close friendship and in his diary he describes how she spent a lot of time with him travelling in Italy and gave him many gifts, including a ring which is also held in the museum collections."
The delicate dimensions of the slippers also fit with descriptions of Princess Pauline, who was said to have been "an exquisitely beautiful but very petite woman".
She married Prince Camillo Borghese in 1803 but the marriage did not last and she met Mr Wilson, who graduated in medicine from Marischal College and served as a ship's surgeon with the East India Company, in the 1920s.
Ms Wilkie added: "The relationship between Wilson and Princess Pauline can only be speculated upon, however records do indicate some form of attraction and attachment.
"In his diary he wrote 'I passed a fortnight in the vicinity of Pisa with the Princess Borgese in a state of almost perfect seclusion and afterwards accompanied her to the Baths of Lucca.'
"It seems she spent a great deal of time with him in Italy and a close friendship developed. He kept the gifts she had given him for life and then they passed to the University collections.
"It is amazing to think the slippers have been here all this time but their significance was never fully realised. I was delighted to make a discovery of this kind, especially so early into my work in museums."
Princess Pauline's slippers and the ring she gifted to Wilson are now on display for the first time in the University of Aberdeen's King's Museum as part of a display of 100 Curiosities.
Neil Curtis, head of museums at the university, said: "The university holds huge collections and many of the items given to us over the years do not have full descriptions.
"It was a great piece of detective work from Louise to piece together the fascinating history behind the slippers. We are delighted that these significant objects are now on display and can be enjoyed by the public for the first time."
Feedback: We want your feedback on our site. If you've got questions, spotted an inaccuracy or just want to share some ideas about our news service, please email us on web@stv.tv.
Download: The STV News app is Scotland's favourite and is available for iPhone from the Apple store and for Android from Google Play. Download it today and continue to enjoy STV News wherever you are.