Tartan Army praised in wake of historic 'no police' Scotland game
Scotland's match against Estonia at Aberdeen's Pittodrie Stadium was the first in modern history with no police.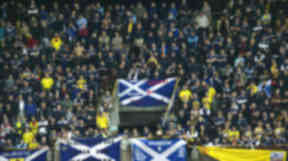 The Tartan Army have been praised by the SFA after Scotland's first unpoliced international football match passed off without a hitch.
The game at Aberdeen's Pittodrie Stadium was attended by more than 16,000 fans but did not have a dedicated police presence at the ground.
The SFA said it was the largest police-free match to take place in the country in modern history.
Grampian Police praised supporters and said their good behaviour freed up officers and allowed them to get back on the beat in local communities.
Scotland won the game, the first under new manager Gordon Strachan, 1-0 with a goal from Charlie Mulgrew.
David Brand, the SFA's head of security and integrity, said: "On behalf of the Scotland national team and the Scottish FA I would like to thank the fans for their exemplary behaviour throughout the day and, especially, inside Pittodrie during the match.
"It is a tribute to the excellent reputation of the Scotland supporters that Grampian Police, in conjunction with Aberdeen FC, felt confident enough to take the concept of police-free matches to this new level.
"There were no ejections during the match, no arrests before or during the game and only a small amount of alcohol confiscated outside.
"It is important that we work together to enhance the responsibilities around match day to the club or international safety teams and to the stadium security staff, who operate with an increasingly sophisticated stewarding plan.
"Last night's game was a fantastic spectacle but also a safe environment for more than 16,000 supporters to enjoy themselves."
Chief Superintendent Adrian Watson, Aberdeen city division local police commander, said: "Scotland's fans have a history of good natured behaviour at football matches and the Tartan Army can quite rightly be proud of the fact that this game went ahead without the need for police officers inside the stadium.
"We will not compromise on safety and each game is the subject of a rigorous risk assessment with our partners.
"We have got to a stage where Pittodrie is one of the safest matchday experiences in top flight football.
"Much of the credit has to go to the club, our other footballing partners, including in this case the SFA and of course the supporters themselves who have acted so responsibly, allowing us to free up officers to be returned to the heart of our communities where it matters."