Darren Mackie met by fans chanting his name as he arrives in Phoenix
The former Dons striker was given a warm reception when he touched down in the States earlier this week.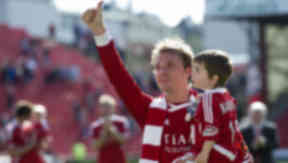 Former Dons striker Darren Mackie was given a warm Stateside welcome when he touched down to start his new life in the USA earlier this week - where he was met by a group of fans chanting his name.
The Aberdeen legend, who notched up 58 league goals during his 14 years at Pittodrie, arrived in Arizona on Wednesday to continue his career with his new club Phoenix FC Wolves.
The Inverurie hit man, who flew in with his wife and kids, looked shocked as he arrived at the airport to be greeted with camera flashes and cheers by fans eager to see their club's latest signing in the flesh.
In the video, filmed by Phoenix's independent soccer supporters club La Furia Roja 1881 aka The Red Fury 1881, one fan is heard saying: "Welcome to America."
Mackie then takes time to shake the hands of the adoring crowd before being presented with a bouquet of flowers and a welcome basket.
The fans then join in for a chorus of "There's only one Darren Mackie".
The 31-year-old, who has joined the Phoenix FC Wolves on a one-year deal, has also rebranded himself as "Daz" Mackie in a promotional video for his new club.
Fans old and new took to Twitter to welcome the striker's arrival in the States.
Darren Mackie, @aberdeenfc legend, is arriving in #Phx Wed. night. We'll be there. And you're invited - on.fb.me/11GNNTr #WEareLFR

— LFR1881 (@LFR1881) February 5, 2013
Superb Darren Mackie! Great reception in Pheonix! Currently my new team ! #superstar

— John Black (@beej_69) February 8, 2013
I miss Darren mackie and I'm not afraid to say it! #onedarrenmackie

— Greig Lawson (@GreigLawsonn) February 7, 2013
Words cannot describe how much I'd love to be part of the Darren Mackie welcoming party over in Arizona.

— Andy Skinner (@andydskinner) February 7, 2013
Watch both videos here