Emeli Sandé's Aberdeen homecoming gig sells out in just 70 minutes
Tickets for the Music Hall gig on April 19 went on sale at 9am on Friday morning, selling out in record time.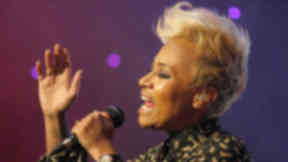 Scores of Emeli Sandé fans were left disappointed on Friday morning after the singer's homecoming gig sold out just 70 minutes after going on sale.
The Alford-born singer announced at the start of the week that she planned to conclude her UK-wide tour with a homecoming gig at the Aberdeen Music Hall on April 19. And eager fans began queuing from 7am this morning outside the venue to secure their tickets.
Tickets became available at 9am this morning with the queue outside the Music Hall snaking onto Union Street, as friends of Aberdeen Performing Arts were given a head start before the general sale release at 10am.
But just ten minutes later the show had sold out, leaving many fans disappointed and calling for another date to be added.
Aberdeen Performing Arts press manager Joyce Summers said: "They flew out of the door at breathtaking speed.
"We knew it was going to be a hugely popular gig – Emeli obviously has an enormous following in a city which regards her with great affection as their own.
"People started queuing just after 7am and the phones have never stopped.
"Luckily we drafted extra staff in to cope with the calls, so all went well and we are now looking forward enormously to what is sure to be a fantastic gig on April 19."
Just 15 minutes after the show sold out, tickets for the April gig were listed on bidding website Ebay for a staggering £70 a ticket.
And many disappointed fans took to Twitter after the tickets sold out, calling for an extra date to ensure all of Emeli's fans can enjoy the end of her fantastic tour.
THE @emelisande TICKETS HAVE NOW SOLD OUT!

— APA What's On (@APAWhatsOn) February 8, 2013
@emelisande please add an extra date in aberdeen, i tried to get tickets but couldnt!! <3 I will love you forever if you did! :D xxx

— Megan Wright (@MegggaanW) February 8, 2013
Got tickets for @emelisande at the Music Hall, Aberdeen in April! So chuffed!! #perseverence #aberdeenboxoffice #apawhatson

— Fiona Gordon Buchan (@fionagb30) February 8, 2013