Minister set to quit Church of Scotland over gay clergy row
Reverend Dominic Smart, of Gilcomston South Church on Aberdeen's Union Street, will quit on March 6.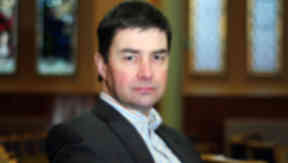 A minister has resigned from the Church of Scotland over its stance on gay clergy.
Rev Dominic Smart, of Gilcomston South Church on Aberdeen's Union Street, will quit on March 6 to launch his own breakaway church just four days later in a hotel.
Mr Smart hopes that hundreds of members of his current congregation will join him at the new set-up because he believes that God would "not be happy" with gay ministers being allowed in the Church of Scotland. He said he had no choice but to resign from the Kirk.
He said: "What the new congregation believes is that the bible is our supreme authority in matters of life and doctrine.
"It's quite simple - the bible is very clear that same sex ordination in the ministry is something that God would not be happy with and so that's what we also believe.
"The decision by the Church of Scotland represented a clear and deliberate move away from the authority of scripture as the word of God and our supreme rule of faith and life."
Mr Smart's new congregation will gather on March 10 at a suite in the Copthorne Hotel in Aberdeen and he believes they will outnumber those that stay with the usual service at the Church of Scotland's Gilcomston South Church.
He said: "The first service of the new congregation at our church - which will have a slightly different name of Gilcomston Church - will be on the March 10.
"Normally on a Sunday morning we'd have about 350 worshippers turning up and on the basis of previous discussions and consultations, we are expecting a substantial majority of those to be part of the new congregation at the Copthorne Hotel.
"On that Sunday morning we'll be up against the service at South Gilcomston Church, but I think we'll have the majority of the congregation as there's already a large number who have left to join us and many more have pledged to join when we start."
Although Mr Smart's church will start off as independent, there are plans to join another denomination and then they will start looking for a permanent venue to worship in.
He said: "We'll make a decision about which other denomination we will affiliate with in the next few months as we don't intend to be independent for very long.
"But at the same time we don't want to rush into anything and we need to just let the dust settle and take stock of where we are. At the moment we want to just get on with telling people the good news about Jesus Christ.
"We've experienced a great deal of unity and strength from within the congregation and we're looking forward to moving ahead and doing something new."
Mr Smart insisted there was no going back on the decision - which was originally made in 2011.
He said: "It's taken a long time to sort out - there's a lot of procedures you have to go through first. The decision back in 2011 was made on what the Church of Scotland had already decided at the time, there's nothing since then which has aggravated our decision.
"I think it would be extremely unlikely to go back now. Once you're on the outside and you look in, you discover that there's actually a number of things that just don't look right on the inside."
The gay clergy controversy was sparked in 2009 when Rev Scott Rennie was appointed to Queen's Cross Church in Aberdeen.
Your report: If you have information on this or any other story, please let us know. You can send information, pictures to web@stv.tv or call us on 01224 848918.
Feedback: We want your feedback on our site. If you've got questions, spotted an inaccuracy or just want to share some ideas about our news service, please email us on web@stv.tv.