Sixteen grounded Super Pumas to be 'back in air by the summer'
About 20 helicopters are still stuck on the tarmac after two EC225s ditched in the North Sea last year.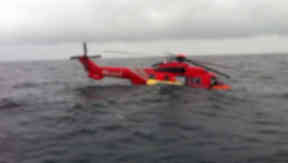 Aviation chiefs have vowed to alleviate severe transportation problems in the oil and gas industry by getting over a dozen grounded helicopters back in the air by summer.
About 20 helicopters are still stuck on the tarmac after a Super Puma EC225 ditched in the North Sea on October 22, forcing bosses to pull the choppers from service.
But now, Bristow Group, who own 16 of the flawed aircraft, reckon manufacturer Eurocopter have found a solution to the cracked gearboxes that forced two choppers to ditch in May and October last year.
Bill Chiles, chief executive of Bristow Group, said he expects their 16 EC225s to be back in service by "spring or early summer".
Aviation writer Jim Ferguson said the news would be welcomed by the oil and gas industry which has struggled to cope with the demand of transporting workers since the grounding.
He said: "It has been a bit difficult at times - with a great deal of hard work by the ops staffs. Luckily in winter things are a bit quieter."
French firm Eurocopter have been working on the gearboxes used in the Super Pumas since the last one ditched in October and a temporary solution is close to being found.
Mr Chiles admitted however that a permanent fix could take up to a year-and-a-half to implement, but several older aircraft will be brought out of retirement to help alleviate any capacity problems.
In November Bristow will also start using new helicopters bought from Eurocopter's rival Sikorsky. The firm will take delivery of ten S92s after signing a deal with Sikorsky believed to be worth £173m.
A spokesman for Eurocopter admitted they were working to a time-scale similar to the one Mr Chiles revealed.
He said: "We do not want to comment on Bristow's position, except to say that we share Mr Chiles' confidence regarding an interim solution which we are working on.
"As the rests are ongoing it is too early to provide a fixed timeline on confirming the root cause of the incidents."
Your report: If you have information on this or any other story, please let us know. You can send information, pictures to web@stv.tv or call us on 01224 848918.
Feedback: We want your feedback on our site. If you've got questions, spotted an inaccuracy or just want to share some ideas about our news service, please email us on web@stv.tv.