Scots scientists to search oceans to find new life-saving antibiotics
The experts will probe previously untapped oceanic trenches in the Arctic and Antarctic.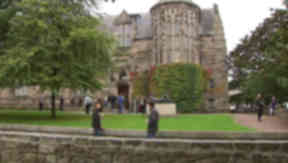 Scientist from the University of Aberdeen are to search oceans in an effort to develop new life-saving antibiotics.
The experts will probe previously untapped oceanic trenches in the Arctic and Antarctic to collect and screen samples of mud and sediment.
If all goes to plan the results of the £8m project could be available to treat patients within a decade.
The PharmaSea project will plunge up to 2km below sea level to retrieve samples from some of the most extreme parts of the planet in a bid to uncover new bacteria that can produce novel antibiotics.
Antibiotics have saved millions of lives over the years but new drugs need to be constantly created as bacteria build up resistance, making infections difficult if not impossible to treat.
Project leader Professor Marcel Jaspars, professor of chemistry at the university, said: "If nothing's done to combat this problem we're going to be back to a 'pre-antibiotic-era' in around 10 or 20 years, where bugs and infections that are currently quite simple to treat could be fatal.
"There hasn't been a completely new antibiotic registered since 2003. This is partially because of a lack of interest by drugs companies as antibiotics are not particularly profitable. The average person uses an antibiotic for only for a few weeks and the drug itself only has around a five to ten year lifespan – so the firms don't see much return on their investment.
"Only a handful of samples have ever been taken from deep trenches and investigated so the project is breaking new ground."
Project co-ordinator Dr Camila Esguerra added: "PharmaSea will not only be exploring new territory at the bottom of the oceans, but also new areas in 'chemical space'.
"With our broad platform of cutting-edge experiments to detect drug-like activity, we'll be testing many unique chemical compounds from these marine samples that have literally never seen the light of day. We're quite hopeful that we'll find a number of exciting new drug leads."
With costs for expensive specialist underwater equipment costing upwards of £25,000 a day the team will employ strategies more commonly used in the salvage industry to carry out the sampling.
Using fishing vessels the team will drop a sampler on a reel of cables to the trench bed to collect sediment. Scientists will then attempt to grow unique bacteria and fungi from the sediment which can be extracted and refined to discover new antibiotics.
The first field tests will be carried out in the autumn in the Atacama Trench in the Eastern Pacific Ocean about 100 miles off the coast of Chile and Peru.
The team will also search the Arctic waters off Norway and the Antarctic via Italian and South African partners. Deep trenches will also be accessed off New Zealand.
Your report: If you have information on this or any other story, please let us know. You can send information, pictures to web@stv.tv or call us on 0141 300 3264.
Feedback: We want your feedback on our site. If you've got questions, spotted an inaccuracy or just want to share some ideas about our news service, please email us on web@stv.tv.