Council threatens to sue MSP over claims they 'cooked the books'
Aberdeen City Council is vowing to sue Kevin Stewart MSP unless he withdraws fraud claims.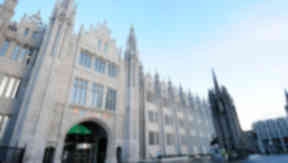 Aberdeen City Council are poised to sue an SNP MSP over his claims that the local authority was guilty of "cooking the books" in their accounts.
Kevin Stewart, a former finance convener of the council, issued a press release last year with the headline "Council accused of cooking the books to fund pre-election give away".
He claimed that the council was presenting a "misleadingly pessimistic account" of their finances and urged them "to be honest with the public".
However, the current finance convener, Cllr Willie Young, told STV News that these comments amounted to Mr Stewart accusing him and his fellow officials of fraud.
Mr Young said: "Freedom of speech is a fundamental principle, but Kevin has gone too far and we are prepared to take legal action unless he issues an apology or retraction.
"If you ask any accountant what 'cooking the books' means, they will tell you it means 'fraud' and behaving illegally, so it is a very serious charge to make against any public body.
"We accept his right to criticise us, but not to peddle this nonsense in the public domain. Kevin needs to take a step back, swallow his pride, and apologise for what he said.
"We will be asking our officers on Thursday [at the council's finance and resources committee] if he has issued a retraction or an apology and, if he hasn't, we are ready to take legal action.
"It is outrageous for him to say what he did and we will not let him away with it."
However, Mr Stewart told STV that his political opponents had missed the point of his attack.
He said: "This is nothing more than what Cllr Young would describe as the cut and thrust of politics. And I would ask: Do the Labour Party think that politicians suing other politicians is a justified use of taxpayers' money to settle political scores?"