Producer claims Gary Barlow didn't think Emeli Sandé would be a star
The X Factor judge auditioned the Alford-born singer three years ago - and said she wouldn't make it.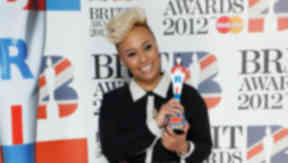 X Factor judge Gary Barlow turned down the opportunity to sign Emeli Sandé and didn't think she would become a star, it has been revealed.
The singer, nominated for four BRIT awards, auditioned for a record deal with Barlow's now defunct label Future almost three years ago.
Emeli's producer and co-writer, Naughty Boy, said she sang current hit Clown to the Take That singer at the meeting. The producer claimed the performance was "identical" to the one she gave just a few weeks ago in front of the judge on the X Factor final show, where he gave her a standing ovation.
The song was a top five hit for Emeli, who has performed the track to rave reviews on the US chat show circuit, including Jimmy Kimmel and Ellen DeGeneres.
Speaking to The Daily Record, Naughty Boy, real name Shahid Khan, said that the experience could have knocked the singer's confidence – but luckily she continued with her musical dream which has seen her dominate the charts since bursting onto the music scene a little over a year ago.
He said: "I watched as she sang Clown. He listened and said that he didn't think she was a star.
"Barlow shouldn't have said what he did because it could have knocked Emeli's confidence and she could have walked away from music."
Luckily the Alford-born singer stuck to her guns and recently saw her début album Our Version of Events stay in the top 10 album chart for an incredible 50 weeks, selling over £1.5m copies.
Naughty Boy added: "On X Factor he is a judge of potential stars and yet he couldn't even spot the biggest star in the country right now."
With the BRIT awards ceremony set to reveal the winners on February 20, Gary Barlow may be left X-tremely embarrassed if Emeli walks away with armfuls of gongs.