You've Been Trumped wins Best Documentary prize in Kermode awards
The man behind the controversial 'You've Been Trumped' film has won a new accolade.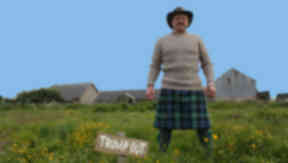 You've Been Trumped, the film which chronicled the creation of Donald Trump's Menie Links golf course, has won Best Documentary in the annual 'Kermode awards'.
The fly-on-the-wall film, which was directed by Anthony Baxter, has created controversy, seen the director arrested, and aroused the ire of the US billionaire — but it has also been showered with praise by reviewers and the public and has now earned fresh recognition from one of the industry's highest-regarded critics, Mark Kermode.
Mr Baxter told STV he was delighted to have gained the accolade, but launched into an outspoken attack, both on Grampian Police and First Minister Alex Salmond, whom he claimed had refused to visit Menie Links, despite it being in his constituency.
He said: "There is a growing feeling of anger amongst people in Scotland about the way Scotland's Government and Grampian Police have behaved over the Trump development.
"Despite recent Freedom of Information requests by us and other journalists, Grampian Police claims it is somehow protecting the public by refusing to release further information about incidents documented in the film. We think that withholding this information is a gross distortion of the Freedom of Information Scotland Act.
"Meanwhile, despite receiving over a hundred letters from concerned viewers since the film was broadcast by the BBC [in October], Alex Salmond has yet to visit the residents on the site to hear their deeply-felt concerns."
Despite his anger, Baxter declared the success of the film was as much a testimony to the spirit shown by the Menie dwellers as it was to his own efforts behind the camera lens.
He added: "Mark Kermode [the BBC's chief film critic] was present when we played the film alongside the great Bill Forsyth's Local Hero at the Shetland film festival — which makes the award all the more meaningful.
"This award is a real and fitting tribute to the residents of the Menie Estate and the way that they have captured the hearts and minds of people across the UK, following the film's network television broadcast and through its cinema release, for their courage, dignity and respect for their environment."
Baxter is currently working on other projects.