Cow that thinks it's a horse becomes star of pony display team
She jumps, she drives chariots and has attitude - meet Hettie Moo, the equine coo.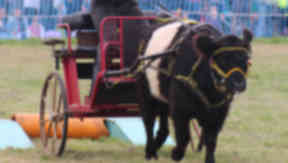 An orphaned cow has become the unlikely star of a pony display team after being saved from the slaughterhouse.
Hettie Moo, a Belted Galloway heifer whose life was saved at the Cairngorms Reindeer Centre, now jumps and jives with ponies in the Chariots of Fire display team in Lockerbie.
The story started three years ago, when Hettie's mother died after giving birth. But, just when it seemed the slaughterhouse beckoned, the calf was taken in and hand-reared by Cairngorm officials in Aviemore.
The Reindeer Centre thought she was too tame to join another herd so they passed her on to Amanda Saville, who runs the equine charity organisation Sport Driving Unlimited in the Borders.
Ms Saville explained: "They didn't want to put her back in the herd, so they delivered Hettie one Christmas [in 2011] with a red ribbon round her neck.
"Since then, she has become adept at driving carriages and becoming a big part of the team. Her steering isn't that good, but she jumps the carriages, just like the ponies do.
"She is great fun, quite sassy and is really good at jumping. Some people have described her as being a cow who thinks she's a horse, but she is her own personality.
"I don't think this is especially strange - we also drive sheep - but it comes down to whether you look at farm animals and think of them as beef or people. I prefer the latter approach."
Hettie has already brought joy to many different groups, including children with special needs, car crash victims and those suffering from autism.
But she is not the first cow to flourish amid the pony express in Lockerbie.
Ms Saville said: "Before her, we had Susie and she also took part in the displays. Now, she has retired, and is acting as a mentor to Hettie, who has taken on the lead role and is still only three years old.
"She is just starting to train again before the first show of the 2013 season in April. But she loves being out there, pulling the carriages and being in the spotlight."