Ruby Turner talks Jools, Jazz and Emeli Sande ahead of Aberdeen visit
Ruby Turner is relishing her trip to the north-east for the Aberdeen Jazz Festival.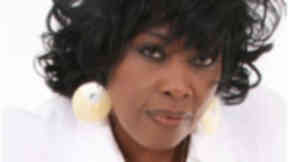 Ruby Turner's cv positively sparkles with superstars in the music world. The singer, songwriter and occasional actress has worked with the likes of Bryan Ferry, Mick Jagger, UB40, The Temptations, Steve Winwood, Lulu and The Four Tops.
There have been hits liberally sprinkled throughout her career, from "It's Gonna Be Alright", which reached No 1 on the American R&B chart, to "I'd Rather Go Blind", which was the highlight of her string of chart successes throughout the 1990s.
Yet, when we spoke this week about her forthcoming visit to the Granite City at the Beach Ballroom on March 15, as part of the Aberdeen Jazz Festival, it was clear that Turner had little interest in dwelling on former glories. She talked briefly about her long-term association with Jools Holland, formerly of Squeeze fame and now a "Hootenanny" veteran.
But she was equally determined to pay tribute to the emergence of Scotland's Emeli Sande: an artist with whom Turner can empathise as somebody with a pure love of music in all its guises, whether pop, rock, gospel, soul, jazz or the blues.
Turner told STV: "I've been very impressed with how Emeli has dealt with her success and I think she is terrific. I met her in Finland last year, and she was amazing, very down-to-earth, but full of passion for what she was doing and she struck me as a major talent.
"Some people get carried away with success and being in the media, but Emeli hasn't let it affect her. I brought her debut album ["Our Version of Events"] and it was clear from listening to the songs that she wasn't some pre-packaged star, but the genuine article.
"She is intelligent, she does things her own way, and she walks her own path. In many ways, she reminded me of the [US singer] Anita Baker and that is no small recommendation."
Turner's peripatetic career has steered her from Montego Bay in Jamaica, to Handsworth in Birmingham, and most of the way round the globe. In tandem with the loquacious Holland and his big band, she has belted out boogie woogie and scintillating soul and wrapped her sumptuous voice around everything from evocative elegies to stomping stadium anthems.
Yet one of the most impressive aspects of Ruby's attitude is her refusal to be pigeon-holed.
She said: "When I walk through record shops and see how they are trying to put everybody into little niches, it irritates me and I just want to shout: "Don't do that!"
"I try to tap in to everything I possibly can and I never want to be restricted to any one or even two types of music when there is so much good new stuff out there.
"Too often, these days, it seems you have to be one kind of singer and stick to that. But I'm hopefully going to keep moving around [the genres]. That's one of the things I love about recording: the sense that you're never sure what will emerge at the end of the process.
"It might be brilliant. It might be rubbish. But it will never be formulaic. We aren't on a conveyor belt. We have to go in new directions all the time. Or at least that is my way of looking at it."
Turner enjoys devising new concert schedules with Holland - "Jools has this boundless enthusiasm about him which is really infectious" - but is also involved in solo projects. And, having visited Aberdeen in the past, she is savouring her night in the spotlight in March.
She added: "We'll have to see how it goes, but I always want to push myself. There will probably be some blues, some soul, some jazz and gospel, and who knows what else?
"The main thing is that is makes you feel warmer, happier, and stirs your emotions. I feel blessed that I have been able to do something I love for so many years.
"But I have no intention of slowing down or looking backwards. I live in the here and now."
With or without Jools, this lady is a diamond!