North-east brewers rattle out Snake Venom, the 70% ABV beer
North-east firm, Brewmeister will launch their 70% ABV Snake Venom, later this month.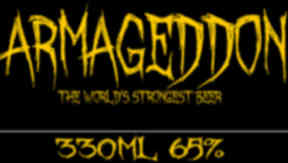 First they produced "Armageddon", the world's strongest beer at 65% ABV.
And now north-east firm Brewmeister are set to unveil a limited edition of 'Snake Venom' - which at 70% ABV is not designed for the faint-hearted or lily-livered.
The last few months have been a giddy whirl for the Banchory-based company. So much so that their founders, including Lewis Shand, are in the process of relocating to Keith and moving into premises six times the size of their current base.
Shand told STV: "Life has been very hectic since we brought out 'Armageddon' and we've had interest over the winter from every corner of the globe.
"We thought that we were only going to produce a few crates of the drink, but we ended up making 3000 bottles and they have gone to the USA, Canada, France, Russia, Australia, China, Japan, Korea....almost everywhere you can think of.
"So the demand has meant we are going to employ more staff and move to a bigger brewery. In the midst of this, we are putting the finishing touches to 'Snake Venom', which is 70% ABV, and we expect a few people will be interested in that as well."
Shand's business approach is to think outside the box and go for what's cool over what's traditional. To that end, he and his colleagues have just manufactured a range of new products, including a single malt beer, and a particularly hoppy tipple with the provocative title 'Hopped to the Gates of Hell'.
Shand added: "We don't want to stand still, and Scottish brewing is in a healthy state.
"We were on the Discovery Channel in Canada this week after they hooked us up to a live satellite and did a story on how we came up with "Armageddon."
"We never imagined there would be this level of enthusiasm for what we were doing."
The new 70% ABV item will be unveiled in Aberdeen, probably towards the end of March.
But, thereafter, Brewmeister will run their operations from Moray, not Deeside.