Donald Trump reveals first image of new Aberdeenshire hotel
Donald Trump has unveiled details of the new hotel he plans to build in the north-east.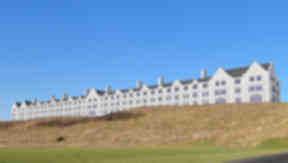 Donald Trump has released the first images of the new hotel development which he is planning to construct in Aberdeenshire.
The American billionaire has claimed the 140-bedroom hotel has been specifically designed to maximise the views across the dunes, golf course and beach at the Balmedie facility.
But he has repeated his threat not to proceed with the venture if the Scottish Government gives the go-ahead for the EOWDC wind farm venture in Aberdeen Bay.
Mr Trump stated: "This $150m project will be among the finest in Europe, with breathtaking views of the North Sea and the Great Dunes of Scotland.
"This project will provide additional construction work and employment opportunities in the area, but, most importantly will establish the north-east as the premier global golf destination.
"When completed, the hotel will be a tremendous asset for the entire region. However, if plans for the ugly, industrial wind turbines proceed, we would obviously not build this hotel.
"The EOWDC application, if constructed where it is currently sited, would ruin the beauty of Aberdeen Bay, the surrounding coast line, and would forever destroy tourism in the area."
The proposed hotel is the first phase of luxury accommodation intended for the site.
The Trump Organisation confirmed that plans for additional accommodation are currently being designed and developed.