'The only thing fake is the tan' says Aberdeen wrestling star
Scotty Swift, WrestleZone's poster boy, lays the smackdown on costumes, fans and fighting.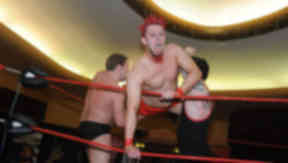 Trash-talking brutes with bulging, glossy muscles and mean, eye-popping stares - the north-east's wrestling fraternity are an intimidating bunch.
But Scott Leggat from WrestleZone, otherwise known as Scotty Swift, was quick to dispel many of the stereotypes associated with their hardened personas.
"The only faking that goes on is the tan," he jokes as he shatters the veneer of machismo.
He goes on to relay a beauty regime that would put an Essex girl to shame. From hair dye and eyeliner to waxing and fake bake, not to mention the skin-tight, scarlet red short-shorts, which leave little to the imagination.
"It just needs to be done, I have done my hair like this for years – this is me. It's the same with the eyeliner - girls have said it brings out my eyes. The legs, chest and arms however, are for the show," he said.
Scott has become the face of WrestleZone and is usually the fans' favourite to win.
Scott said: "A lot of what we do is interaction between us and the audience - that's more important than anything. You can have someone who is technically proficient but has no personality.
"When I look at rock stars I see a magnetism that draws me to them and that's what I try to achieve when I'm in the ring.
"I don't like to big up the fact that I do have some female fans, but I do get letters every now and then. I recently started seeing someone and when some of the regulars found out, they might have been a bit upset."
The 32-year-old began watching WWF (World Wrestling Foundation) at the age of ten and instantly became fascinated by the likes of Andre the Giant, Hulk Hogan and The Junkyard Dog posturing onscreen.
The former Hazlehead Academy pupil said: "I have been a wrestling geek for as long as I can remember, I dropped so much money on all the toys, posters and games.
"I used to re-enact it with my neighbour and a pal from down the road. I would be Hulk Hogan and we would jump on each other or off objects as we practiced the moves.
"When you are that age, you are too stupid to feel pain. When you are older, you realise that it hurts."
Scott requires constant knee support on his left leg after suffering various injuries in the ring over the five years since he signed up to the WrestleZone training school.
The Aberdonian, who works in a café on the beach promenade by day, joined the wrestling institution after trying his luck with a career in music and studying psychology and sociology in college.
The 'Red-Haired Warrior' said: "I didn't know what I wanted to do really. I've always stayed true to my interest in wrestling but I never thought I could make a go of it professionally.
"Now I realise that everything I have done up until now has helped me get to where I am today. The psychology, for example, has been really important as what we do here is all about emotion."
Critics of the PG-rated sport argue that the characters are acting out a scripted routine. With names like Crusher Craib, Blue Thunder and Hippy Horror, disbelievers could be forgiven for holding that view.
Scott said: "People who think it is fake do not have a clue what they are talking about. I am just myself when I go out, I don't have to pretend to be anyone I'm not. I can be a bit more hyper and jumpy after a show – like I've had too much caffeine.
"There is fighting - it is contact but it's in a controlled and healthy environment. It is a release for me.
"We do not practice a routine or have a script, we do not know who is going to win the fight and it is not staged. You can't pretend to be thrown down onto a hard floor and for it not to hurt.
"Once we had a show and things kicked off afterwards, it got to the point that it was no longer fun. Some of the fans were nose to nose with the wrestlers and it was about to get serious."
The wrestlers train together twice a week, spending hours in the gym, some with personal trainers and dieticians who coach them on how to improve their technical performances.
Last weekend, scores of fans lined the street outside the Northern Hotel for the biggest fight of the year where 20 men would compete in the fourth annual Regal Rumble.
This year, the over-the-top-rope contest would yield a big prize for the winner - the chance to be in the main event when wrestling returns to the Beach Ballroom on June 1.
To add to the drama, Scotty Swift and former tag team champion Shawn Johnson united to finally end their bitter rivalry (in and out of the ring) with Brian Starr and Davey Annan.
Showing his dark side before the fight, Scotty said: "Me and Davey were friends at one point, I was even best man at his wedding, but that is no longer the case. There is a referee and there are still rules but I am really hoping to sort him out."
With over 200 people crammed in to the adrenaline-fuelled event, Scotty and Shawn defeated their rivals in the tag team bout with a double footstomp to the delight of the baying crowd.
His fortunes in the Regal Rumble weren't as favourable and, after making it to the latter stages, Scotty was tossed out by Nathan Black after some 'help' from two downed opponents.
Dave Patterson, chief spokesperson for WrestleZone management, said: "We have been growing exponentially over the last few years and now look forward to performing in front of crowds of 250 people. We have to turn people away because the shows are packed out.
"Our job is to dispel the disbelief to fans at all times. The wrestlers are always in characters, so much so that if a baddy is out and sees a regular fan they will cross the street, whereas Scotty will greet them with open arms. The fans really do believe in them.
"After one of our first shows, Richard R Russell was almost run over after the show by an old woman who had been at the event. I like to think it was in a jokey way, but she really went for him."
To find out about upcoming events at WrestleZone, follow them on Twitter, you can also find them on Facebook or visit their website.