Inseparable huskies find forever home after 300 days in kennels
The huskies have been adopted by Alex and Isobel Arthur after spending almost 300 days in the rehoming centre.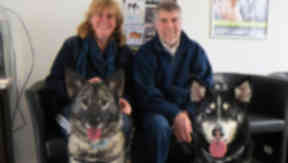 An inseparable canine duo have finally found a place to call home after spending almost a year in a rehoming centre.
Four-year-old huskies Cleo and Mirren captured the hearts of north-east animal lovers last year, after STV told of the Scottish SPCA's plight to find them a home in time for Christmas.
The pair had been in the care of the charity's Aberdeenshire centre for almost 300 days and despite numerous calls for potential owners to come forward, Cleo and Mirren were left out in the cold.
Now the doggy duo have been adopted by Alex and Isobel Arthur, who fell in love with the dogs during the summer but didn't have space for both of them in their current home.
After moving to a larger space, the couple reapplied to house both the dogs and were delighted to have been accepted.
Mr Arthur said: "It's a change to our life - a new home, new dogs and really looking forward to enjoying life with our new animals."
The Drumoak centre had decided that separating the dogs would be detrimental for their well-being and, despite numerous offers to rehome only one of the dogs, the Scottish SPCA stuck to their guns to make sure this loving duo found the right family for them.
Mr Arthur said: "I think they like us, they've been very good. They have their moments but they need each other, we know that, we've seen that.
"I think they are happy and I think they will be happy in their new home."
Now the huskies are settling well into their new life away from the rehoming centre and staff at Drumoak rehoming centre couldn't be happier for the pair.
Claire McGillvary, animal care assistant at the rehoming centre, said: "They were with us for 290 days and obviously everyone at the centre is very happy they have found a home together.
"They probably couldn't have asked for a better home, the Arthurs are a great couple."