Roads and schools affected as snow and ice grips Grampian area
Several early morning road accidents reported during the cold snap.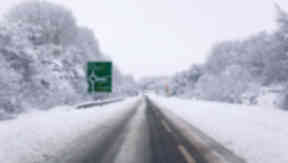 Winter weather has once again gripped the Grampian area causing problems for motorists on Wednesday.
Schools have been affected and commuters have been delayed on the roads following several early morning accidents.
In Aberdeen Fernielea School closed its doors with seven others altering opening times and making changes to school transport.
In Aberdeenshire 17 schools were affected by the weather, mainly with changes to school transport. Moray Council had no schools affected by the conditions.
Grampian Police said it had been called to a "number of accidents" in the area following heavy overnight snowfall but said "none had been serious".
One woman was briefly trapped, but not seriously injured, after her Vauxhall Antara crashed on the B9125 at Raemoir turnoff at around 9am.
On the South Deeside Road two cars, a Peugeot 207 silver and a black Volkswagen golf, collided at Ardoe House at around 8am.
At around 7.30am two vehicles, including a grey Audi A4 estate, crashed at Tarves and on the A90 Dundee to Aberdeen road a vehicle collided with a lamppost causing long tailbacks for commuters.
The Met Office has a yellow weather warning in place in the area until 5pm on Wednesday.
STV weatherman Sean Batty said: "The wintry weather will continue through Wednesday and into Thursday with further sleet and snow showers affecting northern and eastern areas.
"A little snow may be experienced at low levels for a time across all areas during Thursday morning and afternoon, although this will turn back to rain fairly quickly.
"Snow will continue to fall over higher ground on Thursday for a little longer and has the possibility to cause some travel disruption on the higher routes for a time, although this will also turn to rain later.
"This weekend will be showery for many areas and these showers are likely to have a wintry element to them over high ground.
"Given the current weather pattern over Europe and the Atlantic I would say that cold and wintry spells will continue to affect Scotland throughout the rest of March with a high chance of further significant snowfalls in places.
"This is of course is great news for the ski centres as we approach the Easter holidays, with the prospects of a good bit of fresh snow to come at some of the resorts."
Traffic Scotland has warned motorists of possible problems on the area's roads due to the conditions.
Aberdeenshire Council's head of roads and landscape services, Philip McKay, said: "Our fleet of gritters and snow ploughs have been working hard to treat our extensive road and footway network.
"Around 1000 miles of our main A-class roads and busier commuter routes make up our 32 primary treatment routes, which were all treated yesterday evening and again, from 5.30 this morning.
"We are experiencing periods of heavy and sometimes persistent snow on higher routes in the Marr area today, where repeat treatments have been required."
People in Aberdeen are being advised that heavy snow is forecast to hit the area during rush hour on Wednesday.
A council spokeswoman said: "Heavy snow is forecast to hit Aberdeen this afternoon and continue falling through the rush hour, after which lighter snow showers are expected.
"This is likely to cause problems during the rush hour. The travelling public is advised to consider their journey plans in light of the forecast and be prepared for possible delays.
"Gritting teams have been working across the city all morning, treating side streets as well as main roads. Gritting operations are continuing this afternoon in light of the forecast and efforts will be concentrated on the priority routes.
"The gritters will remain on the roads during the rush hour and motorists are urged to give them priority at junctions, particularly when the traffic is heavy, and to let them through the traffic so that they can get on with the job of treating the roads. They cannot grit or clear snow if stuck in queues of traffic. The public's co-operation in this is, as always, very much appreciated.
"The nighshift crew will take over at 7pm and be joined by colleagues on early morning operations at 4.30am."
Your report: If you have information on this or any other story, please let us know. You can send information, pictures to web@stv.tv or call us on 0141 300 3264.
Feedback: We want your feedback on our site. If you've got questions, spotted an inaccuracy or just want to share some ideas about our news service, please email us on web@stv.tv.