Church of Scotland to discuss future of kirk abandoned in gay row
Reverend Dominic Smart left the kirk last month along with the 300 strong congregation.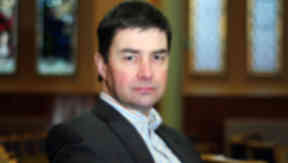 The Aberdeen Presbytery of the Church of Scotland will meet on Thursday to discuss the future of the city's Gilcomston South Church.
Its minister, Rev Dominic Smart, left the kirk last month along with the 300-strong congregation over the ordination of gay ministers.
They were due to meet at the Copthorne Hotel, but the hotel cancelled the arrangement.
A Church of Scotland spokesperson said:"Tonight's meeting is a special one which has been specifically called to consider the situation at Gilcomston South.
"The meeting was formally called at the last scheduled meeting of Presbytery, on the suggestion of the Special Committee which has been working in the situation.
"The meeting will consider recommendations which have been made by the Special Committee and these cannot be discussed before the meeting.
"At present the congregation of Gilcomston South still exists and there are still members on the roll. The Presbytery has not made any determination that the situation may be otherwise.
"We are sorry and saddened when any minister or members feel that they have the need to leave the Church of Scotland but we are thankful for the way in which both the minister and members of congregation of Gilcomston South conducted themselves prior to their departure.
"Each congregation is different and any agreement that is reached will reflect the particular situation there. In this case, the Presbytery remains committed to providing for those who wish to remain members of the Church of Scotland. In the meantime we are working together in the hope of reaching a suitable solution and we are encouraged by the graciousness of these proceedings."
Mr Smart said he had no choice but to resign from the Kirk. He said: "What the new congregation believes is that the bible is our supreme authority in matters of life and doctrine.
"It's quite simple - the bible is very clear that same sex ordination in the ministry is something that God would not be happy with and so that's what we also believe.
"The decision by the Church of Scotland represented a clear and deliberate move away from the authority of scripture as the word of God and our supreme rule of faith and life."
Your report: If you have information on this or any other story, please let us know. You can send information, pictures to web@stv.tv or call us on 01224 848918.
Feedback: We want your feedback on our site. If you've got questions, spotted an inaccuracy or just want to share some ideas about our news service, please email us on web@stv.tv.