Lifeline for Inchmarlo as golfing facilities and jobs saved in deal
Inchmarlo Golf Club has been partially saved by new owners Burnett of Leys.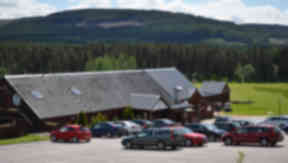 The nine-hole golf course and driving range at Inchmarlo in Deeside have been rescued from closure and will open again on April 1.
The Aberdeenshire resort was placed in provisional liquidation last month and accountancy firm KPMG was appointed to look after the facility's affairs.
Now, it has been confirmed that Inchmarlo Land Company Ltd (ILC), which is majority-owned by Banchory-based family Burnett of Leys, have stepped in to rescue the sporting and community facility, which also has a close association with 42 holiday villas close to the course.
However, the 18-hole Laird's Course at Inchmarlo is not owned by ILC and is therefore not part of the rescue package.
The new company is in is discussions with a view to re-employing some of the 25 Inchmarlo Golf Centre staff, who were made redundant by the liquidator.
ILC have already held initial talks with some committee members, who are expected to call an extraordinary general meeting, which will include discussing the continuation of the club as a nine-hole course. They also plan to meet with the owners of the holiday villas.
James Burnett, the director of ILC, said on Tuesday: "We have acted as quickly as possible to reach an agreement with the provisional liquidator to purchase the assets of Inchmarlo Golf Centre Ltd, which will see the nine-hole course and driving range re-open for business on April 1.
"We understand this has been an extremely distressing time for staff employed at the golf course, who lost their jobs. We are currently employing five of the 30 staff and that may change, according to the scale and nature of the work involved.
"The important message for golf club members is that golfing at Inchmarlo will continue and we intend to restore and improve the Queen's Course and maintain it to the desired and expected standards."