Families of Super Puma crash victims 'will never get closure'
The two crew and 14 passengers on board the Bond-operated Super Puma helicopter died on April 1, 2009.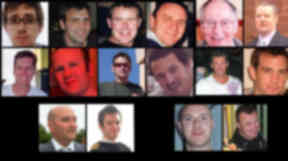 The families of 16 offshore workers killed in a horror North Sea helicopter crash have claimed they will never get closure after it emerged no one will be prosecuted for their deaths.
The two crew and 14 passengers on board the Bond-operated Super Puma helicopter perished on April 1, 2009, after a "catastrophic failure" of the gearbox caused it to plunge into the sea 11 miles off the coast of Peterhead, Aberdeenshire.
But the Crown Office said there is not enough evidence to start criminal proceedings against Bond, or the chopper's manufacturer, Eurocopter.
Ben Goble, whose brother Nolan, 34, was on board the helicopter branded the decision "absolutely disgraceful".
He said: "It is a complete cop-out by prosecutors, who obviously feel that because nearly four years have passed, families like ours have forgotten about what has happened.
"Various reports into the accident have found problems with the gearbox. Surely that alone is enough evidence to bring someone to court?
"How can we have 16 people dead but nobody in court? "We can't get any closure if there are no prosecutions."
Verona Szegedi, whose son James Costello, 24, was also killed in the incident, added: "We will have to live without our loved ones and they (Bond and Eurocopter) will have to live with their conscience.
"It's a sham but what can you do? It will not resurrect any one of our loved ones. There is not the evidence and you can't dredge the sea.
"The Air Accidents Investigation Branch (AAIB) discovered that the gearbox failure made the helicopter's main rotor to break away which in turn, caused the tail to be cut off from the main body of the aircraft.
An AAIB report also stated that engineers had spotted a magnetic particle on the chip detector in the gearbox a week before the crash and it was decided that the main rotor should be removed and replaced.
But the particle was then deemed insignificant and the maintenance work was cancelled. Just days later the affected gear failed because of a fatigue crack which then caused the failure of the main rotor gearbox.
A Crown Office spokesman said: "Having carefully considered all the circumstances of this incident, Crown counsel have decided that there is insufficient evidence for a prosecution and as a result no criminal proceedings are instructed.
"The deaths of all 16 men who lost their lives in the tragedy are to be the subject of an inquiry in terms of the Fatal accidents and Sudden Deaths Inquiry (Scotland) Act 1976. It is anticipated the inquiry will take place at Aberdeen in October 2013."
Jake Molloy of the RMT union said he welcomed an inquiry into the incident.
He said: "Bond and Eurocopter were complying with all the required regulatory procedures at the time. I think there will still be questions about the gearbox, and a fatal accident inquiry will help answer those questions."
A Bond Offshore helicopters spokesman said: "We note the announcement from the Crown counsel and would like to again express our deep sorrow at the lives lost in April 2009. Our thoughts remain with their families, friends and colleagues."
Your report: If you have information on this or any other story, please let us know. You can send information, pictures to web@stv.tv or call us on 0141 300 3264.
Feedback: We want your feedback on our site. If you've got questions, spotted an inaccuracy or just want to share some ideas about our news service, please email us on web@stv.tv.