Rhino heads removed from museum amid fears thieves would target them
The prized exhibits at Elgin Museum in Moray have been shipped to Edinburgh.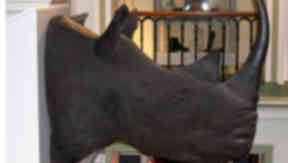 A museum has been forced to surrender a pair of rhino heads worth £400,000 amid fears they would be targeted by ruthless armed gangs.
The prized exhibits at Elgin Museum in Moray have been shipped down to the National Museum of Scotland in Edinburgh after a spree of museum robberies around Europe.
The illegal trade of powdered rhino horn has a black market price double that of gold and the two on display in Elgin - one white and the other black - could have fetched for £200,000 each, if sold.
With limited security devices, Elgin Museum had no option but to move the rhino heads to Edinburgh after more than 20 museums and auction houses were targeted by thugs with CS spray, to blind security guards.
Janet Trythall, 66, vice-president of the Moray Society, which owns the Elgin Museum, said: "We were advised to remove the two rhino heads by the National Museum in Edinburgh and our mentors.
"Unfortunately we had no choice but to remove them from the museum as we didn't want to put our staff, volunteers or visitors at risk from one of these attacks.
"It's one thing to have exhibits stolen and our safe broken into, but to have anyone injured in the process would be devastating.
"We're gutted to have to lose them, they'll be a huge loss to the museum but after reading the reports from the Museum Association we could clearly tell we couldn't secure these precious items sufficiently."
Powdered rhino horn is used in traditional Chinese medicine to treat a wide range of health problems such as impotence, headaches and cancer.
Along with the rhino heads Elgin Museum had to move an 18th century cup made out of rhino horn to the National Museum of Scotland.
A annual meeting will take place at Elgin Museum to decide whether they will ever get the rhino heads back, but Janet reckons because of the criminal climate and demand for rhino horn, they have no chance.
She said: "In my opinion, there's no way we can have them back.
"It's not like we don't have security, but it would have been inappropriate to keep the rhino heads, we don't have the resources.
"We could have replaced the horns with plastic replicas but it's very expensive to do that.
"Besides, are thieves going to be meticulous? It's possible they might strike first, then only to realise their mistake afterwards.
"The message we want to get across is that we have no rhino material on our premises any longer."
The two heads have been part of Elgin Museum's collection since 1941, although the white rhino was in better condition and was on display in the museum's main hall.
It was shot in Sudan in 1913 by the father of Lieutenant Colonel Stuart Menzies, who lived at nearby Arndilly House, Craigellachie, and donated it to the museum.
In place of the white rhino head, visitors at Elgin Museum will be able to see a wapiti, a species of deer from North America.
The head of the black rhino was not preserved as well and all is known about it, is that it was killed Northern Rhodesia, known now as Zambia.
The rhino horn cup is from China and was donated by George Boyd Anderson, a worldwide traveller from nearby Lossiemouth who died in 1972.
The illegal rhino trade has also affected other museums such as the Natural History Museum in London who recently removed their rhino exhibitions.
Your report: If you have information on this or any other story, please let us know. You can send information, pictures to web@stv.tv or call us on 01224 848918.
Feedback: We want your feedback on our site. If you've got questions, spotted an inaccuracy or just want to share some ideas about our news service, please email us on web@stv.tv.