Donald Trump vows lawsuit as Scottish Government approves wind farm
The European Offshore Wind Deployment Centre in Aberdeen Bay will consist of 11 wind turbines.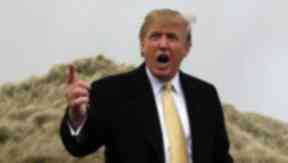 American billionaire Donald Trump has vowed to launch a "lawsuit" after the Scottish Government gave the go-ahead to an offshore wind farm near his Scottish golf course.
The European Offshore Wind Deployment Centre (EOWDC) in Aberdeen Bay, which was given approval by the government on Tuesday, will consist of 11 wind turbines and their connecting cables.
It will be sited between two and 4.5 km off the Aberdeenshire coast, capable of generating up to 100 MW, providing enough energy to meet the needs of over 49,000 homes – almost half of the homes in Aberdeen.
Mr Trump had previously vowed not to complete his golf development at the Menie Estate in Aberdeenshire - which is due to include a second course and five star hotel - if the wind farm was built claiming it would spoil views from his course.
Following the decision Mr Trump said he would now bring a "spend whatever monies are necessary" in an effort to stop the project going ahead.
Mr Trump said: "This was a purely political decision. As dictated by Alex Salmond, a man whose obsession with obsolete wind technology will destroy the magnificence and beauty of Scotland.
"Likewise, tourism, Scotland's biggest industry, will be ruined. We will spend whatever monies are necessary to see to it that these huge and unsightly industrial wind turbines are never constructed.
"All over the world they are being abandoned, but in Scotland they are being built. We will put our future plans in Aberdeen on hold, as will many others, until this ridiculous proposal is defeated.
"Likewise, we will be bringing a lawsuit within the allocated period of time to stop what will definitely be the destruction of Aberdeen and Scotland itself."
The radar, defense, shipping and civil aviation problems will stop the ugly windfarm. #EOWDC

— Donald J. Trump (@realDonaldTrump) March 26, 2013
The windfarm approval in Scotland is subject to many conditions that can never be met - will be tied up in courts for years! #EOWDC

— Donald J. Trump (@realDonaldTrump) March 26, 2013
Energy, enterprise and tourism minister Fergus Ewing said the project represented "a huge opportunity for Scotland".
"The Scottish Government is committed to the successful and sustainable development of an offshore wind sector, which could lead to a potential generation of over £7bn to Scotland's economy and support up to 28,000 direct jobs and a further 20,000 indirect jobs by 2020.
"The proposed European Offshore Wind Deployment Centre will give the industry the ability to test and demonstrate new technologies in order to accelerate its growth.
"The centre will also generate up to 100 MW, enough electricity to meet the electricity needs of almost half the homes in Aberdeen City. It secures Aberdeen's place as the energy capital of Europe.
"In consenting this application I have put in place a number of conditions to mitigate a range of impacts.
"My role was in determination of assessing the offshore elements of this development in relation to the Electricity Act consent. An application for a marine licence which is also required for the development is under consideration and will be determined in due course.
"There is another consent relating to the Blackdog sub-station development which is also required is a matter for Aberdeenshire Council."
The long-running application pitted Mr Trump against First Minister Alex Salmond. His own scheme at Menie Estate, near Balmedie, also caused controversy, not least for building on an area of protected dunes.
The golf resort application was initially rejected by a local authority committee, causing turmoil among councillors, and was called in by the Scottish Government. The First Minister became local MSP for the area in 2007.
In an interview in February, Mr Trump threatened legal action to halt the wind test centre.
"I built a masterpiece. I don't want to see it destroyed by windmills. Windmills are going to be the death of Scotland and even England if they don't do something about them. They are ruining the countryside," he said.
The First Minister welcomed the decision to approve the application.
Mr Salmond, MSP for Aberdeenshire East, said: "The north-east of Scotland is a world energy capital and, in order to continue to prosper, we have to be at the forefront of all forms of energy research - marine renewables, as well as oil and gas.
"A deployment centre will put Aberdeen and Aberdeenshire in pole position for the development of offshore wind technology. Our ambition must be to see Scotland as the home of research, development, fabrication and deployment of deep-water marine technology.
"People in the north-east of Scotland well understand the importance of a deployment centre. This is reflected in the 465 representations in support of the offshore proposal, compared to 148 against.
"The Energy Minister was responsible for determining the offshore aspects of this proposal. Onshore is a matter for local decision-making."
Dr Sam Gardner, senior climate change policy officer at WWF Scotland, said: "Giving the go-ahead to this offshore wind test centre is the right decision, demonstrating that no amount of bluster from US billionaires such as Donald Trump will hold Scotland back from becoming a cleaner, greener, job-creating nation.
"However, the Scottish Government needs to show the same level of leadership it has on renewables when it comes to reducing our reliance on fossil fuels in the housing and transport sectors.
"The debate later today in the Scottish Parliament on the Government's draft climate action plan will test whether the will is there to make all sectors of our economy truly low-carbon."
IN DETAIL
Timeline: The building of Trump International Golf Links
Your report: If you have information on this or any other story, please let us know. You can send information, pictures to web@stv.tv or call us on 01224 848918.
Feedback: We want your feedback on our site. If you've got questions, spotted an inaccuracy or just want to share some ideas about our news service, please email us on web@stv.tv.