UK Government unveils plan for 'tax security' from North Sea oil
Ministers say the scheme will secure thousands of jobs and billions of pounds in investment.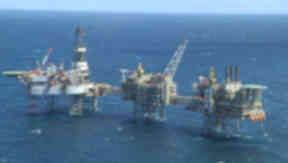 The UK Government is unveiling a long-term oil strategy which it says will create "tax certainty" and secure billions of pounds worth of investment.
Business secretary Vince Cable, energy secretary Ed Davey and Scottish secretary Michael Moore are all in Aberdeen to outline plans to develop skills and support the supply chain.
The Scottish Government has said it welcomes the Coalition's view that there is a long-term future for the industry.
The question of whether oil reserves can be relied upon has become a pivotal issue in the independence debate, with UK ministers insisting Scotland's prosperity would be at the mercy of fluctuations in oil and gas prices.
The SNP argues that the country would reap the profits of an oil boom in the early years of independence and stands to gain as much as £11.8bn in oil tax revenue by 2017-18.
Mr Cable, who will open a facility at offshore specialists Expro in Aberdeen, said: "I want us to consider what barriers are stopping British companies bidding for and winning work in the North Sea. This is an expanding industry. We can either help create more jobs and opportunities across the UK if we get this right, or see work going overseas if not."
Mr Davey said the oil and gas industry is a vital strategic resource.
"With our support for carbon capture and storage, for decommissioning and by encouraging increased collaboration across different energy sectors, especially offshore, there will also be new sustainable growth opportunities for the industry and the wider UK supply chain."
Mr Moore said: "We've made sure that this strategy encompasses the whole industry to make sure we identify the measures that will benefit business, large, medium or small."
Scottish energy minister Fergus Ewing said: "I am pleased that the UK Government highlight the positive future of the industry for years to come, the extent of reserves, and the benefit to the balance of payments, and production taxes.
"Scotland is a world leader in the oil and gas sector. As the UK Government point out in their strategy up to 24 billion barrels of oil reserves remain, meaning that more than half of the value of the North Sea's oil and gas reserves are yet to be extracted, with a potential wholesale value of £1.5 trillion."
The oil and gas industry employs about 400,000 people and supplies nearly half the UK's energy needs, according to the UK Government.
The independent Office for Budget Responsibility (OBR) estimates that revenue will amount to about £33bn by 2017-18, around £8.5bn below the Scottish Government's lowest estimate.