Twitter battle breaks out between students and First after fare hike
First Aberdeen get involved in three hour online war of words with city students after they question 10% ticket price rise.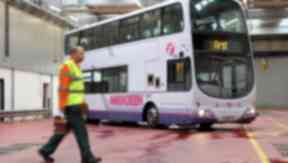 Students from the city's colleges and universities embarked on a Twitter battle with Aberdeen's biggest bus operator after a 10% fare hike at the weekend.
First Aberdeen announced last month that fares would increase on March 31, which would see a day ticket climb in cost from £3.20 to £3.50.
The day that the price rise took hold led to outrage on Twitter. Sparked by a comment by Robert Gordon University Vice President Paul Greene, students from across the city gave their opinion on the issue.
But rather than leaving the students to discuss it amongst themselves, First Aberdeen joined in on the conversation. Before long the operator was taking flak from all sides - and was now part of a social media debate that lasted for three hours.
I see @firstaberdeenhave had another ticket hike. Disgraceful. We must organise alternatives #aberdeen twitter.com/rgu_vpenet/sta…

— Paul Greene (@rgu_vpenet) April 1, 2013
@firstaberdeen @euanldavidson @rgu_vpenet why insist students buy a cross-city ticket for use on only one part of the network here?

— Ryan Maclean (@Really_Ryan) April 1, 2013
@really_ryan @euanldavidson @rgu_vpenet Not all Ryan, we're merely giving you a choice, with better value in longer term tickets

— First Aberdeen (@FirstAberdeen) April 1, 2013
RGU student Ryan Maclean, who previously held the position of Union President, was one of the Twitter users leading the debate, who slammed the price hike for the day ticket and repeatedly called for a £1 student single fare that mimics similar systems run by FirstGroup in Stirling and Leeds.
Despite repeated calls for First Aberdeen Twitter to comment on why a £1 student ticket could not be introduced in the north-east, First Aberdeen continued to rebuff the question, which lead to some other Twitter users dubbing the online meltdown as 'a PR fail.'
Afterwards, First Aberdeen admitted that the member of staff who entered into the debate should have directed the students to customer services rather than try to answer the students' questions directly.
A spokesman for First Aberdeen said: "We welcome all feedback from customers and our Twitter agent [on Monday] answered a number of questions on fares and enjoyed a lengthy conversation with one particular individual.
"On reflection, our agent should have directed that individual to customer services as they are better placed to deal with the questions posed."
Some student bodies are now considering some form of protest against the price hike. Robert Gordon University Union President Francisca Chiedu said she was inundated with emails following the debate.
Ms Chiedu said: "We have to have a campaign working with other universities and colleges in the area to discuss how this issue will be solved. We need to do something about it, even if it means a boycott.
"It is shameful that students are being treated in this way."
While day tickets have increased by 10%, the price of Academic Term and the Four Week bus passes have been held at £350 and £50.
A First Aberdeen spokesman said: "We appreciate that not everyone will welcome our new fares, even although the majority of ticket types have decreased or been frozen in price.
"Student tickets still represent good value for money - for example with the Academic Term ticket students can enjoy unlimited access to our network for just £1.15 a day."
However, this has failed to satisfy student representatives.
Ryan said: "They [the passes] are fine if you have money, but many students can't afford to spend £350 on a pass at the beginning of term.
"In reality, students may only be at university two to three times a week and the 'value' will only be used a handful of times a week."
Ryan added that as the day fare is the only option available to purchase on-bus, the looming campus change for RGU will mean that many students will have no option other than to pay the price.
He said: "With the recent bad weather, students have had no choice but to pay to use the buses. It is upwards to a 45 minute walk [from the city centre to Garthdee] so students have no other option, especially when the university changes campus [in September]."
First Aberdeen said it would consider all suggestions made by customers, adding it plans to announce new student measures in the coming months.
A spokesman added: "We are aware of the expansion planned at RGU in Garthdee. As a result, we are looking at plans to increase the number of buses running on Services one and two, and we are also having a look at a student fares promotion.
"We hope to unveil details in the coming months."