Aberdeen MSP calls for cash ban on stolen metal to prevent tragedy
The Aberdeen MSP thinks lives are at risk unless metal thieves stop getting cash for crime.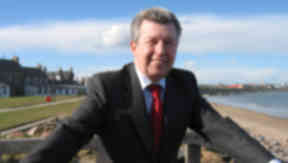 A north-east MSP has called on the Scottish Government to take stronger action to prevent metal thefts, which could end up costing people's lives.
Labour politician Lewis Macdonald was reacting to news of how firefighters were forced to tackle a blaze at an Aberdeen high rise with fire extinguishers and buckets of water because metal thieves had stolen part of the dry riser inlet firefighting system at the Kings Court block in Tillydrone.
The cost to the UK economy from crimes, involving the theft of metal, has been estimated to be as high as £770m by police chiefs.
These offences particularly affect the rail industry and utility companies, but criminals have increasingly chosen to target private properties and residential centres.
Mr Macdonald claimed that if these incidents continued, it was only a matter of time before there were tragic consequences.
He said: "Metal thefts are sometimes seen as a nuisance crime affecting only the building trade. Today's events illustrate how thieves are actually putting the lives of the public at risk.
"Ministers must do more to prevent these crimes and track down those responsible, and that is why I am calling today for them to ban cash payments for scrap metal.
"Licensing alone will not solve the problem. Metal will continue to be stolen, and lives put at risk, as long as scrap metal dealers are permitted to take cash. Ban cash payments and offenders will have no outlet for their stolen goods.
"The residents of Kings Court are fortunate that this morning's fire was only a minor one, and that the firefighters on the scene reacted quickly and effectively to a difficult situation."
Paul Sinclair, the Director of Aberdeen-based scrap metal company Sinclair & Hay, told STV Local that he was frustrated by the current situation.
Mr Sinclair stated: "At our premises, we mainly deal with plumbers, heating engineers and reputable companies, which are involved in the oil and gas industries.
"We do not buy any metal or materials from a person or persons who walk in off the street. But I can understand people's frustrations, because I have my own [with regards to metal theft] and it potentially gives us all a bad reputation.
"As for the cash situation, I feel it is the responsibility of the merchant to make sure he is responsible and not dealing with these type of people. If this was policed by us all in the correct manner and we reported incidents, we would not even be talking about it."
A consultation on measures to tackle metal theft was launched earlier this month by Justice Secretary Kenny MacAskill.
The Scottish Government is seeking views on introducing a tougher licensing regime for dealers and banning payments for metal.
Justice Secretary Kenny MacAskill said: "This is plaguing communities across Scotland and it must be stopped."