Trump opponent will bring his petition to Holyrood on May 14
David Milne will present his case against Trump golf development on May 14.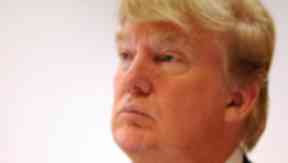 A vociferous opponent of Donald Trump's Aberdeenshire golf development will put his case to Holyrood's Petitions Committee on May 14.
Menie resident David Milne, who believes there were multiple breaches of planning regulations carried out by such bodies as Aberdeenshire Council and the Scottish Government, as well as heavy handed treatment by [the former] Grampian Police, told STV Local he was looking forward to appearing in front of the committee next month.
Mr Milne, who's home sits on the fringe of Mr Trump's land, is pressing for an investigation into the process which led to the creation of the controversial golf development by the American billionaire at Balmedie.
The independent HSE consultant said: "I am allowed some support at the table [at Holyrood] and I might take someone who knows the [petitions] process.
"I will get five minutes to expand on my case after that and members of the committee can question me for up to 40 minutes. I'm looking forward to it."
Mr Milne's meeting with the politicians will happen exactly three months after he launched his petition on the 38 Degrees site.
As of the start of this week, the petition had attracted almost 19,000 signatures supporting his call for an investigation into Mr Trump's dealings with local and national agencies in Scotland.
If his petition is successful, it could see a comprehensive inquiry established into local and national government involvement with the Trump organisation.
Mr Milne has been critical of the way in which some high-profile politicians, including Labour's Lord McConnell and the SNP First Minister, Alex Salmond, appeared to make promises to the Trump organisation, rather than adhering to formal planning guidelines for dealing with such a major development.
He added: "The support local residents have received from the public has been amazing, particularly since [the film documentary] You've Been Trumped aired last year.
"But now it's time to take action and make sure no community anywhere in Scotland ever has to face the kind of threat we have lived with over the last seven years."
However, Trump International executive, Sarah Malone, said it was time to draw a line under the protests against the multi-million-pound project.
She stated: "This has been the most scrutinised golf development in history. The project has already gone through a public inquiry and a very lengthy planning process.
"Mr Milne needs to move on. The championship course is now established and drawing thousands of golfers from around the world to the North-east of Scotland, as well as creating business opportunities and much needed jobs."