Pet dog requires surgery after eating sausages filled with nails
Meggie wolfed down a number of the meaty treats which had nails hidden inside.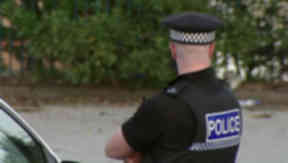 A pet dog is recovering from surgery after she was fed cocktail sausages laden with nails.
Meggie, a black Bernese mountain dog cross, wolfed down a number of the meaty treats in her garden until her owners looked closely at the sausages and found nails inside.
After rushing the eight-year-old pooch to Wards Veterinary Centre in Elgin, vets took an X-ray and found ten nails inside Meggie's stomach.
The young couple, who have asked not to be named because they fear reprisals, said they were shocked that someone could be so callous.
A police investigation has been launched because it is thought to be a deliberate attempt to harm Meggie.
The woman, who also has a toddler, said: "We are shocked at the level some people go to. The sausages must have been planted overnight. There was a gardener in on Thursday trimming the grass so it must have been after that.
"I found three other sausages. She's had five, so there must have been eight or nine in total."
The surgery cost £990 – half of which was paid by Meg Grant of Doolittle Fundraisers animal charity.
Following the operation at the vets, Meggie was kept in overnight and was back home with her owners the next day on Saturday afternoon.
Meggie will have to attend a check-up on Friday, but vet Samantha Kurt expects her to make a full recovery.
She said: "She came in as an emergency case on Friday for the removal of the nails which were found in the X-ray. It was quite a long procedure but she seems to be doing really well. We are pleased with her progress."
Scottish SPCA chief superintendent Mike Flynn urged those who saw any suspicious activity in the Three Rivers Walk area of Elgin last week to call the police.
He said: "Thankfully incidents of this nature are rare but nonetheless very concerning and we are relieved to hear Meggie is recovering from her ordeal.
"Causing an animal unnecessary suffering is an offence, therefore we urge anyone with information about this matter to contact the police immediately."
Police Scotland investigating officer Constable Mark Douglass added: "I would appeal to anyone with information regarding this to contact the police."
Your report: If you have information on this or any other story, please let us know. You can send information, pictures to web@stv.tv or call us on 01224 848918.
Feedback: We want your feedback on our site. If you've got questions, spotted an inaccuracy or just want to share some ideas about our news service, please email us on web@stv.tv.