Fairy Godmother conjures Rab C Nesbitt reunion for popular panto
Elaine C Smith will reunite with former co-star Barbara Rafferty for performance of Cinderella.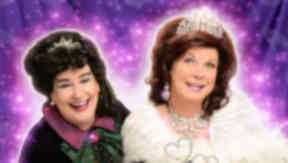 They left millions in stitches as Govan's most famous housewives, Mary Doll and Ella Cotter.
Now, after ten years apart, Elaine C Smith and Barbara Rafferty are back together again for His Majesty's Theatre's Christmas performance of Cinderella.
The Rab C Nesbitt actresses are starring as the Fairy Godmother and Wicked Stepmother for the seasonal panto.
And while the performance is sure to have the audience giggling away, don't be surprised if you see a speck of sentiment welling in their eyes on the the opening night. This year marks a quarter of a century of the pair working together.
Elaine said: "I'm absolutely delighted that my dear pal Babs Rafferty is joining the cast - I have known for years that she would be a fabulous addition to the team and I know how much she loves the city and the audiences here.
"We've worked together for 25 years, mainly on television, but not on the stage for about ten years. I'm thrilled that we are going to get the chance to work together in live performances on the stage at His Majesty's."
Barbara added: "Having worked with Elaine together on so many occasions for television, I am so looking forward to getting back together and this time sharing a stage with her this Christmas.
"I love performing in panto and here in Aberdeen at His Majesty's they retain the standards of traditional panto - it is a real pleasure to be part of this fantastic team."
The two actresses will join Aberdeen panto regulars Jordan Young, who plays Buttons, and scriptwriter Alan McHugh, who will don his outrageous costumes once more in the role of Cinderella's Ugly Stepsister.
Although the eponymous heroine is yet to be cast, the panto is set to be a fantastic spectacle, with the famed pumpkin carriage to feature a magical flying horse to transport Cinderella to the ball.
Tickets for Cinderella are available to purchase now for the Aberdeen Box Office website, with the show running from November 30 to January 5.