McBain is singing in the rain after Cove win Highland League
Aberdeen side Cove Rangers won the Highland League at North Lodge Park.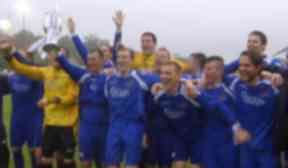 The heavens opened and the home supporters did their best to inspire Formartine United. But, in the end, it was Cove Rangers who secured their third Highland League title in six years with a deserved 2-0 win on the final weekend of an epic campaign.
The hosts only needed a point to claim their maiden championship success, but Cove's greater experience in these tight situations, allied to their excellent defence, allowed them to seize the initiative on a filthy afternoon for football.
At times, the abuse from the stands matched the weather - this was no place for pretty-boy posturing or pampered prima donnas - but Cove gradually, inexorably, turned the screw and goals from James Beagrie and Ryan Stott sealed the deal for the visitors, who have never surrendered a point against Formartine in all their meetings.
The result was a massive disappointment for the majority of the sizeable crowd who had packed into North Lodge Park, hopeful that Steve Paterson's players could regain their form, after surrendering their momentum in recent fixtures.
But the outcome was sweet for Roy McBain, Cove's 38-year-old former Inverness Caley and Ross County midfielder, who told STV he was as delighted as at any stage of his career.
He said: "Any championship feels amazing. To travel all these miles, to all these away games, and go through all the tears and sweat...I'm just delighted at how it has gone.
"There were no nerves today. We were nervous at Rothes last week, because we didn't want to slip up there. But, psychologically, we were on the up.
"We were winning our games, whereas Formartine were dropping points.
"We knew it was going to be tough because if they scored it was worth two goals to them. But once we got a goal, it was basically all hard graft, effort and team work."
McBain's personnel broke the deadlock after just nine minutes when the ubiquitous Connor Scully's penetrating cross found Beagrie and the latter headed in at the near post.
And, despite the worsening conditions, Cove's stranglehold increased on the hour mark when they both gained a penalty and saw their rivals reduced to ten men with the dismissal of Stephen Jeffrey, who fouled Scully inside the box.
Stott's initial effort was saved by Andy Shearer, but the youngster maintained enough sangfroid to stab home his second attempt at close range and apply the coup de grace.
In the aftermath, Cove's low-key manager, Kevin Tindal, allowed his players to bask in the limelight. But he subsequently hailed this latest achievement for the Allan Park club.
He said: "It was good that so many people wrote us off in the early stages [of the season].
"We have not been mentioned as title contenders for long enough, but we believed we had the ability to win the league and we proved that today.
"We knew in advance that a draw wasn't good enough. The challenge was for us to take the game to Formartine, put them under pressure and see how they coped."
His counterpart Steve Paterson, who had challenged Formartine not to be "bottlers" in the build-up to to the contest, had no complaints in the aftermath, even if he must have been inwardly seething at the fashion in which his charges had lost the plot recently.
He said: "The best team won on the day and the best team won the league, there is no doubt about that. We are second and a worthy second.
"I think we should still feel proud. We accumulated 78 points against 49 last season, and that is a massive improvement. We just lost out to an outstanding side."
Ultimately, though, United were as culpable in their late collapse as Cove were instrumental in orchestrating their success proving this is a competition of wafer-thin margins.