Mark Beaumont set to complete fault line challenge in Aberdeen
The record-breaking adventurer is scheduled to complete his latest challenge, for the STV Appeal, in Aberdeen.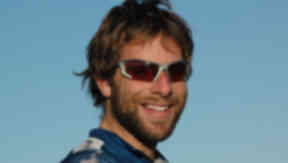 World record-breaking adventurer and cyclist Mark Beaumont is on schedule to complete his latest groundbreaking pursuit when he arrives in Aberdeen on Monday evening.
The Scot, who has gained international fame for his myriad exploits, is currently testing himself by running and swimming the Highland Boundary Fault Line.
The challenge, which followed months of intense training, including ice-cold open water swims, is expected to see him finish at Aberdeen Beach, near the Beach Ballroom, between 5pm and 6pm. The north-east public have been urged to come down to cheer him on during the last leg of his latest achievement.
Beaumont's exertions have included an unprecedented six-mile swim from Arran to the Isle of Bute. He has also crossed Scotland's biggest loch, Loch Lomond, and committed himself to ultra-marathon runs over rough terrain and mountain climbs, to help the STV Appeal by raising as much money as he can for children and young people living in poverty in Scotland.
As usual, he has embraced his stamina-sapping itinerary with total commitment and enthusiasm, impervious to whatever obstacles he might encounter.
And he has been accompanied on his journey, at various points, by the likes of former Scotland rugby star Scott Hastings and Scottish Olympic athlete Eilish McColgan.
His schedule commenced on Saturday, June 1, on a journey from Blackwaterfoot to Sannox on Arran.
Thereafter, Beaumont has continued negotiating the 230-mile trek from Arran to Aberdeen, by foot and in the water, via such places as Dunoon and Balmaha, Garelochhead and Callander, Blairgowrie and Edzell.
But if there have been difficulties en route, he has pledged himself to overcome them and carry out his latest charity mission.
Beaumont, prior to launching the Highland Fault Line mission, said: "Being involved in the STV Appeal has opened my eyes to the number of children in Scotland who are living in poverty.
"Youthbuild [a programme run by Action for Children Scotland] is a great example of how the money raised is helping to make a real difference in the lives of young people and I'm glad to have had the opportunity to visit the project first hand.
"I would love to see lots of community support along the route and I hope we can raise as much as possible for this fantastic cause."
At least Beaumont is accustomed to thriving under pressure. His numerous televised expeditions include rowing through the Canadian Arctic, cycling from Alaska to Tierra del Fuago, scaling the highest peaks of the Americas, and breaking the Guinness World record for the fastest global circumnavigation by bike.