Aberdeen set to discover fate of UK City Culture bid on Wednesday
Aberdeen will discover whether it is on the shortlist for 2017 UK City of Culture bid on Wednesday.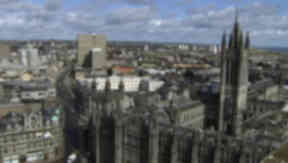 Aberdeen will discover on Wednesday whether it has progressed to the shortlist to become the UK's City of Culture in 2017.
At the moment, 11 candidates are bidding to gain advancement when the list is whittled down to just four cities, with the final decision being made later this year.
Aberdeen and north-east rivals Dundee are in competition with Chester, East Kent, Hastings and Bexhill on Sea, Hull, Leicester, Plymouth, Portsmouth and Southampton, Southend-on-Sea, and Swansea Bay.
The merits of the various nominations are being considered by an independent advisory panel, chaired by Phil Redmond, creator of Grange Hill, Brookside and Hollyoaks.
A spokesman for the Aberdeen bid has insisted that the Granite City team are confident they will advance beyond the preliminary cut-off.
He told STV: "We will find out at 11am on June 19th if we have made the next stage of the UK City of Culture competition.
"Members of the team recently flew to London to answer questions from the judges. We gave a good account of what the city has to offer.
"At the moment, we are talking to as many arts organisations, individual artists, businesses, charities and members of the public as we possibly can. We are picking up a real enthusiasm for the year of culture in Aberdeen. This is a city full of incredibly talented and creative people and this could be an incredible opportunity.
"We really want people to get involved with the year of culture and with the programme, which is open to anyone with an idea or a project or an event that they think would work in 2017."
More information is available at www.aberdeen2017.com