Abandoned Cold War nuclear bunker up for sale in north-east
An underground former military bunker has been put on the housing market.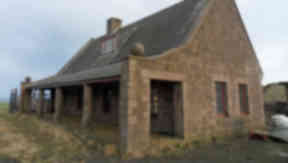 A fascinating relic of the Cold War in the north-east of Scotland has been put up for sale.
The facility - a large-scale military bunker - which was designed for use as a command centre in the event of a nuclear conflict, is now on the property market for anybody interested in going underground in Inverbervie, 20 miles south of Aberdeen and 40 miles north of Dundee.
The Guard House at Bervie Brow was constructed in the 1950s by the British Military, before being acquired by the United States Navy in the late 1960s, when it was run in conjunction with the major monitoring station at RAF Edzell.
The bunker subsequently lay unused throughout the late 1970s and early 1980s, until it was designated as a reserve headquarters for the civil defence control HQ that was located in Dundee. It was finally closed in 1993.
Offering some 10,000 square feet of underground accommodation, the bunker is suitable for a variety of uses, including residential development, a research and development data centre, a disaster recovery property, or even as an amenity for whisky or wine storage, as well as an outdoor activity centre.
It also sounds as if it could provide the perfect specifications for a film set for anybody involved with the next Bond or Bourne movie.
Mark McQueen, an associate at Shepherd Chartered Surveyors, said: "The detached building connects to a substantial underground bunker to the rear of the main building which leads to a long concrete-lined corridor with 10ft thick walls and metal sliding doors offering an unusual level of security.
"The unique nature of this property makes it suitable for a variety of uses, subject to obtaining the necessary consents."
Interested parties should contact the selling agent on 01224 202800