The night the sea caught fire: Piper Alpha remembered after 25 years
The Piper Alpha cataclysm was the world's worst offshore oil disaster and it happened 25 years ago tomorrow.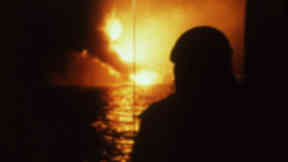 Even at a distance, there is something intrinsically terrible about the night the Piper Alpha platform turned into a scene from Dante's Inferno.
It wasn't simply the ghastly fashion in which 167 men perished during the disaster on July 6, 1988, which remains the world's worst offshore catastrophe.
There was also the fact that even many of those who survived the carnage were subsequently shrouded in guilt or afflicted by post-traumatic stress disorder. They suffered, and their families and other loved ones suffered. In many cases, the people who returned from their ordeal were racked with misplaced guilt.
The majority of the victims suffocated in toxic fumes which developed after a gas leak set off the blasts and sparked the fire. But that basic description conveys nothing of the manner in which the sea burst into flames as madness descended around the platform.
In advance, there had been little warning of the impending apocalypse, and even Lord Cullen's report in 1990, which severely criticised safety procedures on the rig, owned by Occidental Oil, failed to exorcise the mixture of anger, agonising and angst which surrounded one of the most harrowing events in Scottish history.
A former oil worker, who is thought to have been the last man to escape Piper Alpha alive, has spoken to STV about his experiences for the first time.
Reliving the incident, Roy Thomson said there was "not a day went past" when he did not think about the night he jumped from the installation as his boots caught fire with the heat of the floor.
Remarkably, three years after the tragedy, Mr Thomson's belongings from the platform – including his wedding ring - were returned to him after a fishing vessel inadvertently brought his locker to the surface. But, delighted as he was to have these possessions back, they also revived memories of that fateful summer evening.
"Piper has never left me, it was yesterday and it will always be yesterday," he said.
"It was definitely the worst time of my life and the best time of my life was when I was in the water looking back up at it."
Mr Thomson swum through a field of bodies as those who had perished floated to the surface while molten metal dripped "like wax" from the rig behind him.
"I'm near 100% sure I was the last person to leave the platform [alive]. No one below that level would have survived. The steel was melting."
He then clung to a piece of driftwood before being rescued by a boat an hour and a half after the first explosion.
"As long as I could keep warm in the water, I was going home," he said.
"Although they say three minutes in the water and it's hypothermia, that night the water was steaming hot – it was bubbling."
Upon returning home, Mr Thomson said the hardest part was seeing other people's faces and he recalled how difficult it was to face the families of those who had not returned.
"Everything that could go right that night for me went right. I have wondered quite a lot why I made it and the guys next to me didn't make it. I don't know, it's a strange one."
Understandably, it remains an emotive subject for everybody concerned. The former head of Wood Group has described the Piper Alpha disaster as the company's "darkest hour".
Sir Ian Wood led the company from 1967 to 2006 and was at the helm when the calamity occurred. Wood Group lost 39 men in the disaster, more than any other company.
He said: "I don't think anyone had any idea that could happen offshore. Frankly there was a kind of numbness for a month, six weeks [afterwards].
"Everyone was numb. We didn't know what had happened; we actually had no idea until Lord Cullen eventually [published his report]."
The wife of an oil worker killed in the Piper Alpha disaster 25 years ago says that she still feel her husband by her side.
Maureen Henderson lost her husband, David, amid the conflagration but, eight days after the disaster, gave birth to the couple's daughter Kerri. Ms Henderson did not know about the incident until the next day.
Ms Henderson said: "Before it actually happened, in the morning, my husband actually phoned me to find out how I had got on at the anti-natal clinic and I told him I hadn't been as yet and he said, 'Okay, that's fine". Then he said he would phone later on at night, but not to worry if he didn't manage because he didn't often get to the phone.
"He did say a strange thing to me that day, actually. He did say it was awfully hot on there and the flame was burning really high.
"My husband wasn't one to show his emotions on the phone and, that day, he actually turned and said, "You know, I do love you". Even now, I think he is still with me."
If it was a hellish nightmare for those on board, Piper Alpha presented a gruesome challenge for the rescuers who worked tirelessly to save whoever they could.
Many of these people were equally scarred by what they witnessed once they had arrived into the heart of the tumult and pandemonium.
James McNeill, who was later awarded the George Medal for his efforts, along with three of his crew, has never regarded himself as a hero. On the contrary, he believes he was only carrying out the duties for which he had been trained and has never forgotten the sense of frustration which engulfed many of his colleagues as they comprehended the scale of the disaster.
Mr McNeill said: "You try to put it at the back of your mind now because it is 25 years after all. It will never go away, but you have got to just try to get on with it, day to day.
"I was just doing my job, that was our job anyway, so we had to try and get as many as possible and we did that until we were blown up ourselves when the gas line blew-up under us.
"I remember it as just being a nightmare, what we all went through. I was more sorry for the young lads, my crew, but without that crew, we wouldn't have saved as many as we did, because they were very, very brave and they followed me through it all."
The chaos caught everybody unawares. Ian Gillanders, a 50-year-old pipefitter from Nairn, had been working late and was taking a shower at the time of the first explosion when the ceiling fell in. He made his way back to the cabin he shared with two Glaswegian electricians, Bob Ballantyne and Charlie MacLaughlin.
As the disaster unfolded, Ballantyne, who was 45 at the time, was the only one of the triumvirate to survive the night. He eventually died from cancer in 2004, but his account of Piper Alpha forms part of Aberdeen University's 'Lives in the Oil Industry' archive of recorded interviews. Ballantyne is said by those who knew him to have been a warm, funny and gentle man, and it's possible to hear that in his voice, even when the subject is the night on which he lost so many friends.
Gillanders and MacLaughlin died in the explosion. Ballantyne saw it happen before quickly climbing down into the water, where he was eventually picked up by a boat. "I didn't have any remorse when I saw my mates getting blown up and killed," he recalled. "I get quite upset about that. The thing that went through my head was, 'Thank goodness I didn't make it to them'.
"I was told that it's a survival instinct that kicks in. You don't feel love and concern. It's a shocking feeling. Terrible."
The words embody the responses of those who were left behind to pick up the pieces. Former Grampian police officer Doug Duthie had the horrific task of supervising the clean-out of the accommodation module, where more than 100 bodies were located. Janette Forbes was on duty in the control room at Aberdeen Royal Infirmary as the catastrophe unfolded.
Later, as the enormity of what had happened became clear, individuals such as Professor David Alexander counselled a number of the survivors, but some, including James MacDonald, suffered from acute post-traumatic stress disorder for years. Indeed, as Pat Ballantyne - Bob's wife - related, many shattered individuals were never the same again.
There were a few small compensations; a shared collective unity in grief throughout Aberdeen and the wider world; a determination to ensure such a thing would never transpire again; some financial restitution for the families of the victims, although nothing could bring back the folk they loved; and memorials for the fallen.
Lord Cullen's recommendations also sparked the implementation of scores of new safety measures, although he has warned against complacency in the sector.
He said last month: "People have written the words 'Never say never' and I wouldn't be so presumptuous as to say something really bad couldn't ever happen.
"But we have done a great deal to reduce the risk and the rest is over to the way in which management handles its safety arrangements."
One can only hope his words ring true and Scotland never again has to deal with a man-made disaster on such a catastrophic scale.