Family of disabled Orkney girl in battle to secure respite care
Abbie Jackson's parents have been told there are not enough carers to look after their daughter.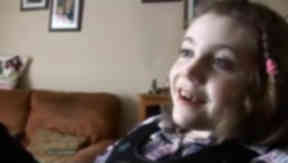 The family of a severely disabled girl are battling to secure respite care for their daughter after it was cut back because of staff shortages.
Abbie Jackson, 13, has been attending Aurrida House, a care facility in Orkney, since the age of two, but care managers have told her parents there are no longer enough staff to provide full respite care.
Three months ago NHS Orkney told the family that she was entitled to an extra 30 hours of home nursing care on top of her respite, but the extra help has not yet materialised.
Abbie's mother, Karen Jackson, told STV News: "She gets up very early in the morning. From four o'clock onwards there's feeding, changing, her water pump gets on.
"She needs help with washing, dressing, brushing her teeth. Every aspect of her care we have to do for her."
Orkney Islands Council said it had prioritised the Jacksons' case and was talking to the family about how organise the necessary care provision.
Caroline Sinclair, head of children and families, said: "We're working as quickly as we can, now that we've established clearly that it is an additional respite at home service that's required, to put in place staff to provide that service."