Shellfish harvesting halted after 70 show symptoms of food poisoning
'Unusually high' levels of naturally-occurring toxins have been detected in waters around Shetland.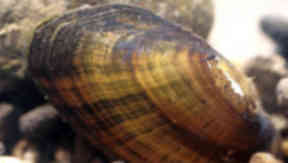 Shellfish harvesting has been halted throughout Shetland and mussels have been withdrawn from market after 70 people reported symptoms of food poisoning in England.
The Food Standards Agency (FSA) said "unusually high" levels of naturally-occurring toxins, which can cause diarrhetic shellfish poisoning, have been detected in nearby waters.
These cases, most of which happened between July 13 and 15, have been linked to the eating of mussels from Shetland.
It was after the harvest of these mussels that the FSA recorded the high levels of toxins during their weekly monitoring programme.
According to the FSA, these toxins are produced by marine phytoplankton and levels are typically higher in summer, but harvesting waters are closed if the legal limit is exceeded.
A total of 11 harvesting areas in waters to the north and west of the islands have been shut by the local authority and businesses operating in the remaining nine areas have decided to voluntarily stop commercial harvesting, said Maggie Sandison, executive manager of environmental health at Shetland Islands Council.
"This year we've seen an unprecedented amount of toxin and the levels have increased from one week to another higher than we've ever seen before," she said.
"It's been an unusual year, so obviously we want to see what's happened this year compared with previous years and see whether the existing approaches and risk assessments that the businesses have are still appropriate based on the information about what's happened this year."
Shetland Mussels is the company that supplied the affected shellfish.
The business has told the FSA that all of their customers have been contacted and all mussels from that batch have been consumed or disposed of.
Michael Tait, managing director of Shetland Mussels, said: "This is the first time that we have experienced a problem with customer illness in our 16 years of production.
"Shetland Mussels is SALSA approved with full traceability, which has allowed us to isolate the affected batches, and this system has worked well in this situation. We have been proactive in working with the customers and the authorities in investigating this incident.
"All the product is out of the market now and there's no danger to the public at the moment."
Mr Tait explained that the harvesting area had been open at the time the batch was dispatched and that the company had a system in place, approved by local environmental health officers and external auditors, to manage the risk of increased levels of toxin during summer.
He added: "Unfortunately, and regrettably, the unprecedented increases seen here meant the toxin levels increased within the timeframe between samples.
"We will therefore fully review our systems prior to commencement of harvesting to ensure that if the same circumstances occur again in the future there will be no risk to consumers."
Ruth Henderson, chief executive of Seafood Shetland, said the trade association was satisfied Shetland Mussels followed the correct procedures and that a full investigation was under way.
She also expressed regret that some of the affected mussels had been consumed.
She said: "Diarrhetic shellfish poisoning is caused by naturally-occurring algal blooms. The recent warmer temperatures have led to an unprecedented level and increase of algal blooms.
"Because shellfish is particularly delicate and susceptible to tainting, growers are always very cautious about maintaining the quality of the product.
"As a result, a voluntary withdrawal of all Shetland mussels from the market has been undertaken until the current high levels of toxins in the water has subsided.
"Customers can be assured that Shetland mussel farmers will take every precaution necessary to protect the excellent reputation that their product has attained in the marketplace."
The FSA said mussels were supplied to a number of restaurants, some through a number of intermediary suppliers and customers reported being unwell after eating at: Belgo in Covent Garden, Holborn, Clapham and Bromley; Zero Degrees in Blackheath and Reading; The Phoenix near Hook, Hampshire; Boulevard Brasserie in Covent Garden; and Pig's Ears in Richmond.
These premises were said to have acted appropriately by notifying the relevant authorities when the cases of illness were identified.
Jacqui McElhiney from the FSA said: "This year we have detected very high levels of toxins and there's been an unusually high number of closures of harvesting areas.
"We're not sure why this has occurred but it's likely to have been due to a combination of factors such as the warmer conditions this summer."